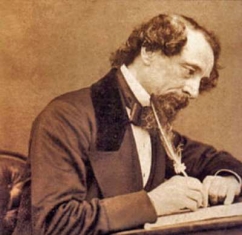 With thanks to
David Innes. 
As the Charles Dickens Bicentenary year draws to its close, a one-off opportunity to view the University of Aberdeen's unique and priceless Dickens collection has been arranged.
This will be held in the Special Collections Department at the new University Library on the Kings College campus on Thursday 6 December at 7pm.
Dr Paul Schlicke of the University's School of Language and Literature told Aberdeen Voice:
"Our exhibition is to be held in the reading room in the basement, directly at the foot of the stairs, and we'll be meeting in the seminar room opposite.
"Several people have asked whether or not the exhibition will be available after our event. The answer is, sadly, no: it is for one night only, with displays carried on the desks in the reading room itself which will need to be cleared for business as usual next morning.  I can offer, however, to recount for anyone who enquires, the anecdote about the item advertising a theatre production in Aberdeen in the 1830s which will be on view, positively for one night only."
The group of Aberdeen Dickens aficionados, which has been meeting regularly since June this year, will take the opportunity offered by this gathering to discuss the group's future and whether or not to pursue a more formal structure.  The group will discuss the possibility of constituting itself as a society with formal membership, officers, an advertised annual programme of events and affiliation with the international Dickens Fellowship.
"Time and inclination permitting, favourite passages from Dickens may be read, so anyone attending might want to come prepared with a passage they'd like to perform as a party piece," added Dr Schlicke.