With thanks to Claire McBain.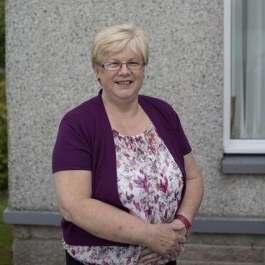 This week, Voluntary Services Aberdeen (VSA), the UK's largest city social care charity, took positive steps to combat a predicted downward recruitment trend by extending opportunities to a new generation of care workers.
VSA's month-long effort culminating in a recruitment day on 29 November, to attract new blood into employment in older peoples' services, mental health services and Linn Moor School.
The service, which employs around 500 people, both full and part-time, hosted recruitment stands and mini-interviews at Union Square and VSA's Castle Street headquarters.
Earlier this week Marjory Moran, VSA Director of Services for Older People , told Aberdeen Voice:
"We've looked to the future of Aberdeen's recruitment market and predict a serious lack of care workers. Qualified support staff are aging and it's difficult to get more due to Aberdeen's economic bubble. A huge pool of resources goes into oil and gas. Saying that, we're obviously very grateful for this energy bubble, as many oil and gas giants support their communities through VSA.
"We want to increase the pool of staff for VSA and the industry as a whole by pioneering the idea that anyone can do it. Whatever your skills, there's a place for you. Obviously we love hearing from qualified support workers but regardless of job history, if you have the life skills, we'll provide the training and qualifications. Who else will provide the next set of qualified care staff if we don't get them on the career ladder?"
Jacqui Sharp (pictured), a senior support worker at VSA's Westerton Crescent, emphasised the care worker time bomb:
"I should have retired four years ago. But I love my job. I'm forcing myself to retire next year though."
Marjory continued:
"You don't need a care-related qualification to apply to VSA. There are major career progression opportunities here. We want to hear from naturally compassionate people who can leverage their personal caring experience, like bringing up children, caring for a disabled relative or looking after an ill friend, to get into social care.
"VSA looks after more than 2500 people in Aberdeen and Aberdeenshire. Over the years, it's branched out to provide support it couldn't before. We need to secure staff now to make sure we can keep this up in future. It's all about caring for the community you live in."
Ex-hairdresser Sarah Taylor, support worker at VSA's Arrdeir House, is part of a new generation of support workers:
"I'd always wanted to care for people but assumed you needed a qualification. I didn't think companies would give you a chance and train you  But seven years later, after studying and working in hairdressing, I found VSA and started work with absolutely no training in care. I'm doing my SVQ and studying other modules to progress my career. It's the best move I ever made. I should have done it years ago.'
"I was used to building relationships with clients so took my social skills with me. But I was surprised to realise that my hair and beauty abilities have been useful too. I've started hosting therapeutic nights for the service users. It makes them feel pampered without travelling far or spending money. And for me, it's a good, different way of having one-to-one time with them."
VSA has created city-wide vacancies after completing a two-year plan to improve its service.
For more information or to apply for a position:
www.vsa.org.uk/jobs
e-mail: HR@vsa.org.uk
Tel: 01224 358589