Daylight robbery in Leith by the Dons this past weekend? They really pushed their luck, apparently. As much as they did against Butcher's Highlanders? I doubt it. Aberdeen quite rightly didn't secure any points this time. Match report by Voice's man in the Pittodrie stand, Andrew Watson.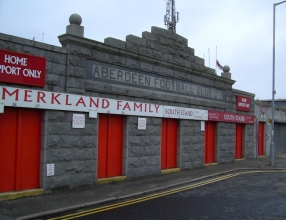 The Dons began the match with promise that surely must translate into securing pole position in the SPL? Not so. After an initial period of dominance, ex-Jag Hayes in particular running amok, it wasn't to be.
Hayes's prominence in the initial stages was a tad surprising, given his former teammates might have found his trickery predictable.
Maybe a sign of how far he's come on? Perhaps, but his efforts and those of fellow Irishmen Magennis and McGinn weren't enough to secure even a draw at home for the dismal Dons.
Without putting too fine a point on it, the period leading up to the Inverness goal was absolutely dreadful.
The Dons couldn't pass and couldn't shoot. Shoot? Fluffing the ball completely off-target would better describe it.
One Aberdeen player who shone in this period was the Kiwi Fallon, back in the first team after a respite. His determination was that of someone desperate to figure in Brown's plans again – crunching tackles and chasing lost causes.
However, not being a marksman of the quality of McGinn, his lack of guile and opportunism really showed as Caley's dopey keeper tempted fate in the extreme when, with the ball at his feet for an excruciating length of time, Fallon hardly mustered a jog to reach it.
It was about this time that Masson appeared to be chopped down in the centre of the park, with the referee urging play to continue. It was from there that Thistle surged forward to nick a very important goal. Masson had just replaced Clark on the half-hour mark.
0-1 (McKay ) after 36 minutes. Criminal!
At this point a rather perplexing contradiction materialised. Although they'd hardly come off the starting blocks until now, the team seemed suddenly shaken into shape. On the other hand, this was where I began to wonder why Fallon hadn't been taken off. Only the most ardent of fans could defend his willingness to be on the wrong end of a tackle.
Anyway, with more than just the standard minute left until half-time, Aberdeen had ample opportunity to score. And they did, when Hayes' sheer perseverance in the box pushed a dangerous ball across goal for Magennis to pounce and sidefoot it into the back of the net.
1-1 at half time. Phew!
'You're not famous anymore,' the raucous men of Caledonian heartily sang. True, though you never have been and we're back in the game!
In the build-up to the second half, yet another indecipherable tannoy message said something about the fourth official.  Or was it the referee? Something about the police looking for an errant linesman who'd parked his car in the wrong place, and that they were waiting for him at the tunnel?
Actually the referee had to come off after sustaining a calf injury and was replaced by an angry-looking, bald man.
Hurrah! All his decisions were going against the Dons, anyway. This guy had to be better!
The Dons' management took the opportunity to augment the rather ropey-looking back three. Whether or not this made any difference wasn't immediately obvious.
The Dons resumed with a barrage of attacks. Finally, Magennis caught a hapless Caley man on the turn and was left with only the 'keeper to beat but, with the Caley no 1 closing him down fast, I didn't think he'd be able to finish it.
Given the expert manner in which the ball was despatched into the bottom corner, however, I thought it was in fact McGinn who had scored. It was only later my dad, who'd been listening to the radio commentary, told me otherwise. Magennis' movement, speed and delivery were uncanny.
2-1 after 50 minutes. Get in!
Unfortunately, Aberdeen then lurched into another period of shocking play. Defenders weren't shutting down probing attackers, the midfield wasn't dictating the flow. If I had to blame anyone it'd have to be Considine.
2-2 (Warren ) at the 58 minute mark.
…then I blamed Anderson.
2-3 (A second for McKay)
McManus on for Hayes, come 87 minutes. Caley then secured victory – and table-topping status – through Butcher orchestrating his troops carefully, and repeating this with the away crowd in a post-match singsong.
Final score:  2-3