The Dons thrashing the Buddies 4-1 away from home last weekend was perfect revenge for their shameful exit from the League Cup at the hands of the same team. You'd have thought then they'd snatch at least a point from title holders Celtic, even after the Hoops' heroics against Barcelona in the Champions League, writes our man at Pittodrie, Andrew Watson.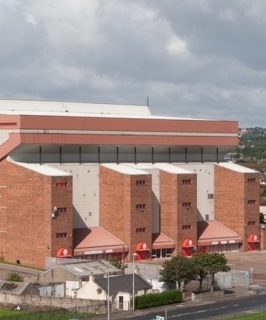 Despite regular penalty box onslaughts from the Hoops, Aberdeen looked promising on the break, particularly with Fraser's runs down the flank. His verve though, before long, was suppressed by Celtic's height advantage at the back.
That flickering flame of hope, sometimes held aloft solely by Fraser, was snuffed out when he sustained a bad knock.
Considering the force of the admittedly fair tackle, he seemed to brush it off quite casually after some time off the pitch.
Fraser bwas giving as good as he got, making crunching tackles with a tenacity that just about matched the force with which he himself has been targeted this season.
He eventually succumbed to a leg strain sustained in a last ditch effort to get the ball into the Celtic box, replaced after 64 minutes by Vernon, not quite the goal talisman this season that he's been in the past.
Aberdeen had spent the first half getting away with farcical zonal marking, granting Celtic far too much space to create. This contentment to sit back, and not press and get in their opponent's faces was rewarded, with Celtic seemingly unable to exploit.
Perhaps they couldn't quite believe that clear-cut chances were being offered to them by a team much changed from the one that sustained that infamous 9-0 battering at Parkhead.
Anyway, Robertson came on for Rae at the restart, rather strange hoping that youth would succeed when locking horns with a multi-million pound beast.
Regardless, it was 0-1 after 73 minutes. This was bound to happen, sooner or later.
It's with a heavy sigh I admit the only player worthy of a mention was in Celtic colours and he didn't even score the opening goal. Though dispatched by Tunisian Nouioui from close range, Victor Wanyama's thunderous effort from 30 yards deserved to burst the net but smacked violently off the post.
Little wonder that, after viewing this game, Manchester United may be after the Kenyan's signature. He was an authority throughout and marshalled his team – he looked like a captain in all but title and armband – with a supremacy suggesting he's worthy of a shot at the Premiership big time.
Let's not say too much about Celtic's second goal four minutes later, delivered into the bottom corner in an expert manner by ex-Don Mulgrew. He's got a habit of inflicting pain upon his ex-club.
0-2.
Only then did manager Brown decide even to attempt to counter Celtic's height at the back, bringing on Fallon to replace the pint-sized Hayes after 78 minutes. Too little, too late.
Final score:  0-2.
Really, it should have been 0-3, but thankfully the Dons were saved further blushes by the linesman who deemed Wanyama's headed effort offside. If there was any justice, he'd have scored and been named man of the match. It was a totally token and empty gesture to name Fraser as man of the moment, and I'd be the first to say if it wasn't.
I've only a few issues with Aberdeen's performance, unfortunately they're major ones.
Firstly, the negativity.
Why not go all-out against a team that's odds-on to beat you, either narrowly or by a large margin? You've nothing to lose going toe-to-toe, man-marking and getting right in their faces. When up against a team of Celtic's stature, you really should fight fire with fire. Hell, you might even get a point for your troubles.
Secondly, and tactically, height advantages.
Why pit Fraser or Hayes against players they can't beat in a clash of heads, when your only tactic is to lump the ball forward? You've only begun to combat this when you put on players like Vernon and Fallon. A pity they were useless.
Finally, I must talk of skill, and this is in the 'simple' department. Why try to beat players, and Magennis comes to mind, when you dribble and punt the ball three feet away from you every time?  A toddler does that when they try to pick up a ball, but can't because their feet are in the way!