After it ended a goal apiece at Tannadice last weekend, I dare say it was assumed by a fair number of Dons fans that a thrashing of United's 'inferior' neighbours was imminent. However, the Dens Park side have avoided Pittodrie defeat since October 1993, when Dons legend Duncan Shearer scored the winner. Perhaps a home victory was not so inevitable after all? Andrew Watson reports.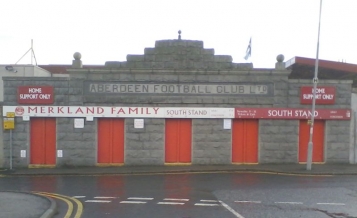 Aberdeen were quick off the mark, and a rampant Fraser was displaying a forward-thinking bloodlust not seen in an Aberdeen attack for a long time.
Vernon seemingly had the cheek to criticise the wee man's delivery after fluffing an excellent chance to put his side ahead early on.
The opening goal, when it came, was partly thanks to a deliberate fluff by Vernon.
After receiving, again from Fraser, the Englishman dummied the ball and allowed Irishman Niall McGinn to fire the ball into the roof of the net. Heard the one about the Scotsman, Englishman and Irishman?
1-0, after fourteen minutes. Ha ha ha!
Jokes aside, this really should have been a demolition job in the first half. Chance after chance came, and Dundee were lucky to hold on to even the remotest of chances of staying in the game. It should have been well out of reach for them by the break, with an ebullient Aberdeen, prey in sight, knocking the ball into their opponent's box for fun.
Come the second half, there appeared to be a change of tack by Dundee. They were determined, disciplined and even began to get behind the Dons defence for the first time. Admittedly, Aberdeen were the better side, though it couldn't quite yet be taken for granted that a victory would come their way.
Then a rather peculiar thing happened. An absolutely awful free kick by substitute Jonny Hayes, on for Clark after 65 minutes, unlocked a dithering Dundee defence at the 74 minute mark. A low shot, hit with little power, ended up in the back of the net. Without exactly setting the heather alight, Hayes proved his worth and raised realistic hopes of a comfortable home victory.
2-0.
Not much of note to report after that. A perfectly legitimate consolation goal for Dundee, which was disallowed, was about it, to be honest.
Final score: 2-0.
There appear to be murmurs of a title challenge for Celtic, in the form of this current Aberdeen side. Undoubtedly they have one of the stronger squads outside Parkhead, if not the strongest.
With St. Mirren in the League Cup quarter finals on Tuesday night, chances of some silverware seem higher than usual. No Aberdeen fan wants to jinx perfectly realistic ambitions, though most surely salivate at the thought of reaching at least one semi-final this season.
Wait, scrap that. Make that one final this season. Maybe they'll be drawn against 'Rangers' at some point, too. A victory at Ibrox, a cup paraded on an open-top bus down Union Street…
Second place in the league. Really?
When you've got a good thing going, perhaps being too ambitious is a recipe for disaster. Modesty, never underestimating your opponent, and application are key!