The past few days has witnessed more than 80 junior matches being played in the North East. With thanks to Dave Macdermid.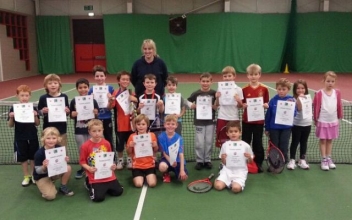 The NESLTA Mini Tennis Red event at Westburn Tennis Centre saw the players split into four groups, the top two players from each progressing to a knockout draw.
Alford's Ewan Smith was on top form, winning all his group matches.
He went onto win both his quarter and semi-finals easily before defeating Rubislaw's Benjamin Hine 10-4 in an excellent final.
District Coach Vikki Paterson said,
"It was great to see so many new red players entering this event. Out of the 22 players, we had eight who were playing for the first time."
This month's orange event provided a great final with Cameron Jappy (Rubislaw) recovering from a first set loss to Ewan Smith to win the final  2-7, 7-2, 7-3.
In the Green event Cults youngster Angus Edward continued to impress, winning the event 4-2 in a final against Rubislaw's Jamie Connel. Alford's Greg Smith beat Harrsha Pradeep Kumar (Cults) in the 3rd and 4th place playoff.
Vikki said,
"This has been a really busy weekend of tennis with many good matches. The standard of tennis was really good and the improvement in the players has been great"
Next month the North East will host the annual North of Scotland Inter County District Competition, the North East U8, U9 and U10 teams will battle it out against Tayside, Highlands and Central.