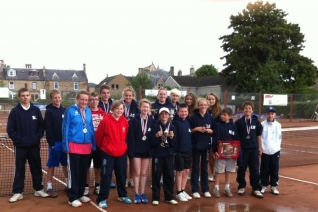 With thanks to Dave Macdermid. 
North East Scotland Lawn Tennis Association District Coach Vikki Paterson's decision to lead a team of no fewer than 25 players to Elgin's North of Scotland Championships proved extremely worthwhile with the party picking up a clutch of titles between them.
Cults youngsters Jason Alexander and Lucy Whelan continued their recent impressive form lifting the Under 12 boys and Under 16 girls competitions respectively while Fiona Hamilton defeated Jemima Curran in an all-Rubislaw Under 18 singles final.
Jemima then teamed up with Ben Soutar (Cults) to lift the Under 18 mixed doubles event while Stonehaven pair Aoife Aitken and Annabel Burns were runners-up in both the Under 14 and Under 16 doubles.
Vikki herself enjoyed a successful event, being pipped 10-4 in the Champions tie-break by the host club's Catherine Sim in the women's singles final but winning both the women's handicap singles and doubles events, partnered in the latter by Westhill clubmate Karina Waddle.
NESLTA President Brian Morgan commented:
"Vikki has once again done a great job organising this trip for the players and they all showed fantastic effort and character throughout the week."
For further information please contact  Dave Macdermid on dave.macdermid@bigpartnership.co.uk;  or on mobile 07805 436988.