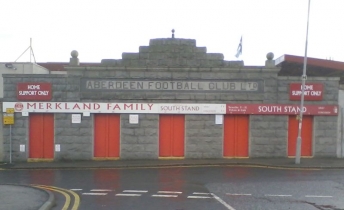 Andrew Watson celebrates a victory at Pittodrie.
I was still devouring my Smarties cookie ( not courtesy of Todder's rip-off refreshments counter … my pal, meanwhile, mid-bite, had a Pittodrie Pie in his moo – watch out, Angus!), having barely sat down, when Aberdeen opened the scoring against vistors Hibernian.
Vernon, fresh from proving his worth as 'super sub' with a late winner at East End Park in the League Cup earlier this week, sensed blood; looking set to beat the keeper – and was thwarted.  But not to worry, Niall McGinn slotted home the rebound!
1-0 …
… sorry, still rustling my sweetie wrappers!
As an aside to the proceedings, and having returned to the Merkland Stand after a one game stint in the Dick Donald monolith, the atmosphere on our patch was loud.
Kids!  At least they do you proud, chanting in remarkably broad Doric (as if the chest couldn't heave heartily enough), "Aberdeen!" as fervently as the Kincorth youth used to – apparently – extol the virtues of the Labour Party on the streets at election time (the SNP sensing, over the course of time, that support for independence was improving as the stones thrown their way got smaller).
Hopefully their dedication, as young troops of the Red Army, wills on the weary legs of our industrious young midfield maverick Fraser, who took the sort of hiding you'd expect to result in a straight red card.
Ah well, yellow better than nothing.  Needless to say, that very challenge was probably the reason for Fraser's second half exit, replaced by Irishman Magennis after fifty-four minutes.
However, having managed to restrict my naming of Motherwell players to just one famous son last weekend, an earlier instance, in the thirty-third minute, necessitates a mention for one particular Hibee.
Striker Eoin Doyle's goal, hammered into the net from twenty-two yards catching goalkeeping League Cup hero Langfield unawares, courtesy of a deft turn that left Reynolds in the shade of the South Stand, is something to behold.  You might catch it on the BBC website, if you're … ahem … sadomasochistic enough to want to watch it!
1-1
Some tense stuff, at both ends, before the end of the first, and commencement of the second, half.
About fourteen minutes into the last forty-five, with Fraser swapped for Magennis, Aberdeen were now pressing for a second, decisive goal.
The added physical bulk (as tough a mite midfielder Fraser is) in the last third was hopefully going to be the difference between half-chances and a winning goal.  Ideally 'goals' plural – but hey, we'll take anything at this point!
After some hard work, and some hairy moments in the 'wrong' half, Magennis unlocked a  besieged, but stubborn Hibs defence with a low cross scrambled into the net by Gavin Rae after seventy-one minutes.
2-1!
A subsequent substitution for the Hibees five minutes later also threatened to make an impact upon the score-line, again in the 'wrong' half!
Reynolds, at fault for Doyle's super strike, caught wasting time claiming offside, redeemed himself with a fine goal line clearance – Langfield having been already beaten.
The welcome return of midfielder Milsom, in for Vernon at the ninetieth minute, added padding to the middle of the park, stifling Hibs in typical Aberdeen fashion.  That being not very well, sometimes!
Credit where credit's due, the backline of Anderson, Reynolds, Jack and – I can't believe I'm saying this – Considine, availed themselves for the majority of the game.
However Langfield, at one point totally exposed by lax marking, must have counted his, albeit mixed, blessings when a Hibs 'hotshot' proceeded to blooter the ball well over the bar. Rugby, anyone?"
Final score:  2-1.
So, Craig Brown has achieved a winning display at home.  Unusually enough, a home win has proven more elusive than an away win with points taken from St Johnstone a few weeks earlier.  We did it!
One can't help but feel – how shall we put it – guarded optimism about this team and the season ahead.  Hopefully a League, or Scottish, Cup Final?  The tenacity is there to progress and winning ugly seems to me, on the whole, to be a good sign.  Hopefully, moreover, we'll get some silverware?
Second place in the league, too?
Definitely getting ahead of myself!