'Where to start?' asks Dons fan Stefan Barr as he takes stock of Aberdeen v's Dundee United at Tannadice – a 'make or break' game regarding the Dons' chances of a top six finish.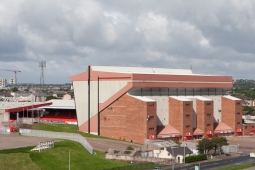 Three things that happen every time we visit Tannadice are:
1. The concession of soft goals.
2. United always seem to get 2 v 1 on our full backs especially in the first half.
3. Their midfield hunt in packs.
We were pretty meek in that first half with United keeper Pernis only having one save that I can remember. Aluko was nowhere and Young, whilst he tries his best, just isn't up to the required standard. Young for me is a decent squad player – a substitute – but due to wage controls, cut backs and injuries, he's become a bigger and more regular piece of the jigsaw.
Zander Diamond's inclusion on the back of four clean sheets was no surprise having heard Brown describe him as an 'established player' at the weekend.
For the first 20 minutes he seemed fairly solid except on one occasion when Goodwillie evaded him to flash a header wide.
From our only attack of note in the first half he sustained a head gash resulting in him going off for treatment. He returned for a few minutes, but the referee didn't seem satisfied that the bleeding had stopped and off he went again this time not to return.
The first goal was poorly conceded, and highlighted our achilles heel – set pieces. Jamie 'Stay at home' Langfield never relieves his defence by coming for crossballs.
Being a man light didn't help but it does not excuse our defending for the first goal, nor the push on Hartley referee Brian Winter failed to spot . Had Diamond not gone off injured, would we have still suffered the same fate? Probably yes! But he would certainly have fared better than McArdle who replaced him.
I was surprised Vujadinovic didn't come on instead as he turned in a decent performance v St Johnstone. McArdle masquerading as the white Jerel Ifil was abysmal. His distribution of the ball, being caught out of position, losing the  flight of the ball, playing us into trouble and his short pass backs all contributed to a dismal showing.
Magennis changed the dynamic of our approach in the second half and started to win his duels with the United centre backs
The second goal was also poorly conceded with McNamee heading back into the midfield area. He might have expected some help from the 5 man midfield to mop up, however Hartley was nowhere to be seen after an encouraging opening 5 minutes. Instead, Conway latched onto the loose ball, put the laces through it, and although it moved, Langfield crumbled.
It's surely the end of the road for Langfield as he's had **** up after **** up after **** up.
Sure, people will point to strong recent performances. However you just can't legislate for the errors he  continues to make. We should look to sign someone like Enckelman – a solid reliable keeper.
I can't recall Paul 'the second coming of Christ' Hartley having a good game this year. He's caught flat footed more often than not and as a
consequence Milsom is doing the work of two. I don't think Hartley is the answer.  His legs are gone and he's been shown up against the better teams of late.
McNamee and Smith had difficult games. They don't seem keen on taking their opponent on and driving for the byline.
( H.T. Dundee united 2 – Aberdeen 0 )
Josh Magennis changed the dynamic of our approach in the second half and started to win his duels with the United centre backs – unlike Vernon.
After the goal (credit to Vernon Crespo and Magennis) we had them on the rack for 5 minutes.
Milsom had a great drive saved well by Pernis and Considine headed over from a corner, but then we conceded what looked to me to be another poor goal.
Take nothing away from Swanson's strike, but it looked like two players got sucked in from a throw in, and with so much ease, United threaded a ball in behind our defence.
After losing the third goal we just seemed to huff and puff our way to full time with Magennis threatening again, but Pernis made a smart save at his front post. Sometimes you have to hold your hands up and say we were beaten by a better team, and United are by far a better team than we are at the moment.
( F.T. Dundee united 3 – Aberdeen 1 )
Craig Brown has a lot of work to do in the summer but there are some positive signs. Milsom's a find, and players will be returning from injury.
Anyway tonight was another case of Deja Vu at that 'coup o' a grun'.
Roll on Saturday
Heeds up and COYR!