By David Innes.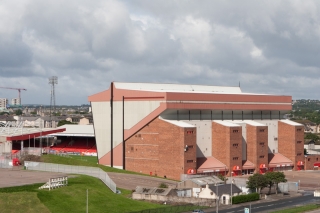 On Dexys Midnight Runners' 1982 fiddle-fest Too Rye Ay, Kevin Rowland, with remarkable prescience nailed down the dilemma that Dons fans are facing following the appointment of Craig Brown and Archie Knox to replace Mark McGhee in the dugout and padded Team Recruitment jacket….
Old, may I sit down here and learn today? I'll hear all you say, I won't go away (Old)
You're the voice of experience, every word you choose….. (Liars A to E)
So, is this pairing old, or experienced?
That they are both in the twilight of their years in football cannot be questioned, Brown is already 70 and Knox is 63, but these are men who have kept abreast of every development in football and approach the game from a contemporary angle. I have no doubt that they will stiffen up our midfield and defence and with a bit of wily wheeling and dealing stop the rot and nudge the Dons to a place of relative SPL sanctuary.
Brown has said that he wants the players to be happy and for the fans to enjoy spectating again. That will be tough. Spirits are low in the squad, confidence has been shattered and there is dangerous apathy among the fans, whose passion in the past has helped drag previous underachieving disgraces to the Sacred Red from the edge of the abyss more than once.
Both know football psychology in and out. Whilst the perception is that there will be a good cop-bad cop culture with Knox in the enforcer role, Brown's spine of steel must have reminded Motherwell fans that their town used to make the stuff, for he too is capable of being a hard man. His preference though, is to get inside the minds of players – there's often plenty room in there – find out which buttons need pressing and to work with them to build their strengths and underpin their weaknesses. He is no sentimentalist though and it would be no surprise to see some of the current squad being 'allowed to leave' if they cannot or will not accept the changes the pair will bring in.
The next few fixtures, Motherwell at home, Hibs away, Hamilton away and Dundee United at home will be a huge test, not of Brown and Knox's abilities, but of the players' attitudes, of their personal and professional pride, of their resilience and their willingness to try to keep the fans, well short of patience, backing them.
We can all point the finger at the Board, which will make Monday evening's AGM 'interesting', we can carp and argue about managerial appointments and man-management techniques, can put forward ideas on emotional intelligence, but come 2.55 every Saturday, or whatever time Murdoch dictates matches will kick off, the only club representatives who can do anything about the Dons' situation are the players. And they'd better not fail us.