Following meetings with Dame Anne Begg MP and Kevin Stewart MSP, members of the Scottish Youth Parliament for Aberdeen have secured support for their latest campaign, 'One Fair Wage', which aims to create an equal living wage in Scotland. With thanks to Kenneth Watt.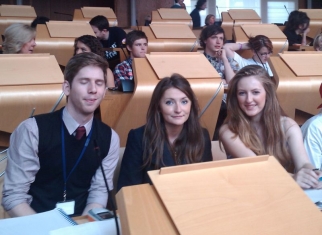 Kristian Chapman, Megan Lukins and Barry Black who all represent the north-east on the national youth forum met with the parliamentarians and plan to attract signatures from councillors and other representatives. The MSYPs' work is part of a national campaign calling on politicians, businesses, councils and charities to pledge their support for a Scottish Living Wage.
The pledge states: 
"I pledge to support the One Fair Wage campaign. I believe everyone in Scotland, no matter how old they are, should earn at least a Scottish Living Wage based on how much it costs to live."
Kris Chapman (Aberdeen South and North Kincardine) said,
"SYP believe everyone in Scotland deserve to earn at least enough to live on.  We believe it's obscene for people to be working whilst still trapped in poverty.  We believe a Scottish Living Wage can make a real difference to half a million low-paid Scots.
"In particular employers paying a Scottish Living Wage can make a real difference locally in Aberdeen.  Higher wages mean workers have more money to spend which they will do in local shops, helping the local economy."
Barry Black (Aberdeen Central) said,
"One Fair Wage will also make a difference on Union Street.  Higher wages mean more money to be spent in local shops.  That's why One Fair Wage is good for workers, will help fight poverty, and will make a real difference here in the Granite City."
Grant Costello MSYP, SYP Chair, added,
"Scotland's young people today launch a campaign to tackle one of the root causes of poverty – low wages.  Far too many workers are being paid wages which are far too low to live on. 
"It's unacceptable for poor workers to be reliant on food banks and charity.  It's unacceptable for young workers to be paid as little as £3.68 an hour.  It's unacceptable for the children of working families to be living in poverty. A Scottish Living Wage can make a huge difference to their lives.
"This is not a campaign about political process.  It's about organisations making a moral and economic choice to pay their workers a Scottish Living Wage."
 Comments enabled – see comments box below. Note, all comments will be moderated.