With thanks to Brian Carroll – PCS Union Branch Secretary of Scottish Courts Branch and ATUC Delegate for Scottish Courts Branch.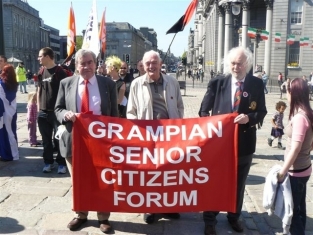 Civil Servants, Local Authority Workers, Community Organisations, Teachers, Pensioners, Anti Cuts Alliances and the general public are taking to the streets of Aberdeen on Saturday 1st October 2011.
This march and rally has been organised by the Educational Institute of Scotland (EIS) and is being supported by all Unions affiliated to the Aberdeen Trades Union Council.
As well as EIS Members, the march will consist of members from Unions such as Unite, Unison, PCS, CWU and others. The march will also have representatives from Community Organisations, Pensioners and members of the public taking part.
Marchers will assemble at Rubislaw Terrace (Opposite Harlaw Academy) at 10.30am, and will then march down Union Street at 11am to Aberdeen Arts Centre in King Street, where a rally will be held at 12noon.
The keynote speaker is Susan Quinn, EIS National Vice President, with other speakers scheduled to attend as well.
The rally will end some time between 12.45pm and 1pm.
This march and rally is an Anti Cuts event, coinciding with and complementing the "People First" march and rally being held in Glasgow on the same day, which is organised by the STUC and supported by all affiliated Unions.
Everyone taking part has the common aim of working together to:
challenge poverty levels and campaign for the fair and equitable redistribution of wealth across Scotland and the UK;
campaign to protect those hardest hit by service and benefit cuts;
challenge austerity and call for investment in the UK economy, which will create jobs and put Britain back to work: therefore boosting the economy and cutting the deficit
protect pay, pensions, jobs and services of all civil, public and private sector workers
challenge the government to collect the £120 Billion tax gap of evaded, avoided and uncollected tax and
get the banks working for the benefit of the country, to free up opportunities of investment. To get the banks to start paying back the bail-out money, and to use the £850 Billion of banking assets the UK taxpayer now owns for the benefit of the country as a whole.
They say that "we are all in this together" but the bankers and owners of big business are still getting their multi-million pound salaries and bonuses and the majority of the cabinet are millionaires.
The top 50 of the wealthiest people in the UK saw their personal worth increase by 20% in the last year whilst middle and low income earners saw their income fall by at least 10%. It will fall by at least that again in the next year, if the Cuts agenda continues. Not only that, jobs and services being lost now, will be lost forever.