Workers Memorial Day Event and Day of Action to defend Health and Safety  – "Remember the Dead and Fight for the Living !"
Saturday 28 April will see various events take place in Aberdeen City Centre; everyone is welcome and encouraged to attend. With thanks to Brian Carroll.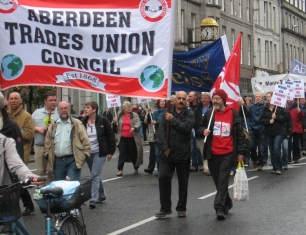 Workers' Memorial Day takes place annually around the world on 28 April 2012. It is an international day of remembrance and action for workers killed, disabled, injured or made unwell by their work. It is an opportunity to highlight the preventable nature of most workplace accidents and ill health and to promote campaigns and union organisation in the fight for improvements in workplace safety.
Although April 28 is used as the focal point for remembrance and a day of International solidarity, campaigning and other related activities continue throughout the year right around the world.
Sultan Feroz, Aberdeen TUC secretary, told Aberdeen Voice:-
"We would urge all Aberdonians and local communities to join us on Saturday, not only to celebrate, but also to show respect and to remember workers who have lost their lives.  We also managed to prevent the National Front from marching; we do not want them associated with us and our City."
This year the TUC is calling on health and safety representatives, trades councils and safety campaigners to make 28th April a day of action to defend health and safety from the attacks on regulation, enforcement, cuts and refusal to tackle the massive toll that health and safety breaches take on workers. Our health and our safety is under attack like never before and we must defend it, for our sake and for the sake of future generations or workers.
To this end Aberdeen Trades Union Council have organised a Workers Memorial Day Service at the ATUC Workers Memorial in Persley Gardens, Persley, Aberdeen, on Saturday 28 April 2012 at 10am (Gathering from 9.45am).
All are welcome.
This years theme is Protecting H&S from the deregulation and de-legislation that the current ConDem Government want to introduce, which has already commenced with the slackening of the RIDDOR Regulations and the cutting of the services provided by HSE to employers. The Service will last for Approx 30mins.
May Day March and Rally – Saturday 28 April 2012 (Gathering from 11am and March off at 1130am)
"May Day" is a celebration of what has been achieved in protecting and in improving workers rights through various struggles over the years, by the Trade Union movement and its members, for the rights of employment that all employees currently have.
It is also, like Workers Memorial Day, a day of remembrance for those who have given their lives in the struggle for workers and their rights, all the way from the Tolpuddle martyrs, to the demonstrations and action that have been taken recently and will be taken in the not too distant future.
To celebrate May Day and all that it stands for in this continuing struggle by workers to be treated fairly, Aberdeen Trades Union Council have organised The Aberdeen May Day March and Rally which will commence by everyone taking part, gathering at St Nicholas Churchyard, Union St, Aberdeen from 11am.
Those present will then march off at 1130am to a Rally in the Castlegate at 12noon.
Refreshments will be laid on after the march and rally in the ATUC Club, Adelphi, Aberdeen once the rally has concluded.
Speakers will be: Local Trade Unionists; Aberdeen Against Austerity; Scottish Palestinian Solidarity Campaign, Students Union, MP's and MSP's and
Guest Speaker – Cheryl Gedling (PCS Union NEC)