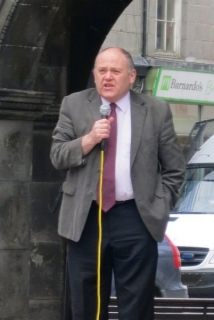 By
Suzanne Kelly. 
This year's Mayday March in Aberdeen impressed everyone with a sizeable turnout.
Some 500 people marched down Union Street to the Castlegate, where speeches were delivered by Trade Union representatives, politicians, and local activists.
Unison, Aberdeen Trade Unions  Council, UCATT, CWU, PCS, EIS, Aberdeen Against Austerity and campaign group 'Save Bramble Brae School' were among those represented.
Len Ironside, Barney Crockett, Willie Young, Dame Anne Begg and Lewis MacDonald were among the marchers, as was local writer John Aberdein.
It was hardly surprising the turnout was so high. Severe budget cuts, austerity measures, economic uncertainty, bizarre taxes (i.e. bedroom tax) and arcane health checks on benefit claimants imposed by the ruling Conservative-Liberal Democrat government (which is also creating tax loopholes for the wealthy): there was no shortage of reasons to march.
The speeches were arguably the most important part of the day.
Barney Crockett, Aberdeen City Council Leader welcomed everyone.
Dame Anne Begg spoke of many labour issues – there are those who want jobs and cannot find them; young people are being given low (if any) wages, people are forced to take jobs they are unsuited to in order to retain benefits, and people with special needs and different abilities have problems finding employers who are willing to make it easier for them to work.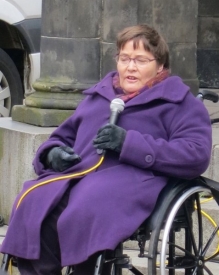 As to ATOS and other companies giving such assessments, Anne commented that government health agents should be there to help us, not to make us feel ill.
Ian Tasker of STUC reminded all that the Conservatives had wanted to do away with the tradition of Mayday being a holiday and a celebration of workers completely; Cameron had feebly suggested moving this ancient, worldwide tradition to November – hardly a conducive time to get people together for marches and outdoor rallies.
Speakers highlighted virtually all of the issues facing workers at this time when wages are not increasing nearly enough to meet inflation and increasing (and increasingly bizarre and punitive) taxes.
Aberdeen Against Austerity members wrote a speech, delivered by member Jill.   Jill went for a positive approach to the current situation; saying:-
"Everyone here cares enough to march down Union Street on a Saturday morning.  What we need to do is harness this energy and focus it on dealing with the problem we face today.
"The problem is not corporate tax avoidance.
"The problem is not even the Con-Dem government.
"The problem is much bigger than that!
"The problem is that we live in a world where profit comes before people.
"A world where the price of a T-shirt is £5, but the cost is the lives of 500 Bangladeshi workers.  The problem is that we live in a world where corporations have more power than half the countries.  The problem is our whole capitalist system.
"So what can we do about it?
"First, we can change the way we think.
"We need to challenge the myth that austerity is the answer to the nation's economic problems. Austerity measures are simply a deepening of the neo-liberal experiment that got us here in the first place. The drive to cut welfare and privatise our services is purely ideological- the free market economy loved so by Margaret Thatcher and expanded by Tony Blair.
"We must also challenge the current strategy of demonising benefit claimants and immigrants. It is a cynical ploy by the establishment to deflect criticism away from themselves…. Through small personal actions we can start to change the world:
"Sign an online petition. Write to your MP. Tell them you don't want to pay to bail out banks just so that they can continue to make profits for their shareholders!
"Join a credit union.  Boycott companies who do bad things.  Better still, opt out of the consumer culture which exists only to fill the offshore bank accounts of people like Philip Green.
"If we look at the cost of an item in human and environmental terms we might start to say no to the automatic phone upgrade or yet another pair of cheap trainers made by a child on the other side of the world. We can change the way we think and take small personal actions but we can also join together and reclaim democracy. Then we can really start to make a change."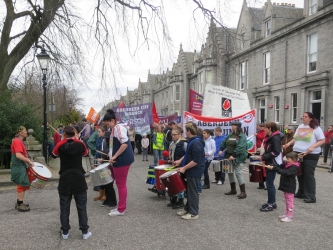 The speeches concluded, and everyone was treated to a celebration in Union Terrace Gardens. Even the sun eventually showed up.
Children enjoyed face painting and comedy from Wildly Unprepared; all enjoyed food from Café 52, music from a variety of acts, and the Guarana  Street Drummers, who had led the march.
Things are changing fast economically, socially and politically with amazing speed at present;  it remains to be seen where will we be next year.
Comments enabled – see comments box below. Note, all comments will be moderated.