I've been known to walk the three and a half miles to Pittodrie.  I have also cycled it. And back.  In the glory days, I often wondered on a Sunday morning how I'd got home the night before.  But even the efforts of The Red Final's regular erstwhile correspondent LS Pringle, who used to walk to and from Echt to watch the Dons at Pittodrie, compare poorly with an initiative being undertaken by fanatical Red and cycling addict, Kyle Hewitt, writes David Innes.
With thanks to Chris Gavin, Secretary of Aberdeen FC Heritage Trust,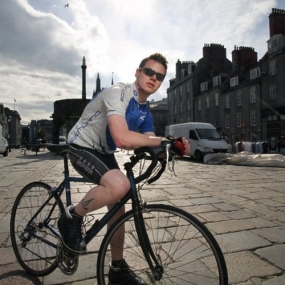 If you're planning a trip to next Saturday's match in Kilmarnock the chances are that you'll travel in the warmth and comfort of a coach or car, or you'll go by train.  Not so Kyle Hewitt.  Kyle is planning to make the journey a good bit tougher for himself by finding his way from Aberdeen to Rugby Park on his bike.
This young man is a seasoned cyclist – with trips including Land's End to John O'Groats under his belt – who considers 100 miles to be 'a wee training run'.
Now Kyle is planning a venture to help raise funds for the Aberdeen FC Heritage Trust by cycling to each SPL ground when the Dons play there this season.
Kyle says:
"I have a tremendous passion for the Dons.  This is growing stronger all the time and I wanted to give something back by promoting and supporting the Trust, a charity close to the club.  
"To do this I'll spread the word by going to away games on my bike and during my travels encourage, as many members of the Red Army as possible to donate to the Trust in recognition of my efforts.
"Hopefully lots of Dons fans will chip in with donations whilst I am doing the hard work.  Just think of it as buying the Trust a pint!  I would love it if fellow fans can also help publicise the trips and spread the word by taking photos when they see me en route to games and posting them on the internet.  That would be really helpful."
In a year of high-profile sporting endeavour throughout the UK and most recently across the Atlantic, it's heartening to see a local sportsman doing his bit for his community by combining his love of football with his passion for cycling to benefit a charity.  This is especially true when that charity is working for the benefit of all Dons' supporters.
To find out more about Kyle's sporting ambitions, visit CyclingScotsman.com where you will be able to follow Kyle's routes, the progress of each outing and read his blog.
To find out more about AFC Heritage Trust and to help Kyle with his fundraising, you can tour the Trust's website, which is packed with information about the Dons, at http://www.afcheritage.org
The Trust's home page has a PayPal donation button and whatever you're able to donate, large or small, will be used to preserve and promote the Dons' history and their place in the community.  All donations will be very much appreciated and you're asked to mention Kyle's name in your transaction.
Comments enabled – see comments box below. Note, all comments will be moderated.