Are you feeling inspired to do something for charity this festive period? Maybe cycling, walking, running – maybe not ? At least you can go along, show your support for an amazing fundraising effort and hand over some of your hard-earned cash for a great cause. Voice's Stephen Davy Osborne caught up with cyclist Kyle Hewitt.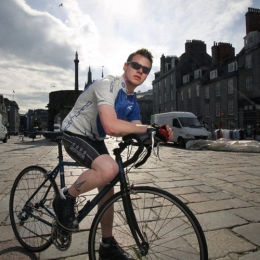 An Aberdeen man is cycling 1000 miles through the Bon-Accord Centre this week to raise funds for charity. Perched atop a stationary bicycle, Kyle Hewitt, 25, is undertaking the marathon mission to help raise funds for local charity Inspire and national children's charity Barnardos.
He began peddling on Monday morning, with much support from friends, family and passersby, and hopes to reach his goal of 1000 miles by closing time on Sunday evening.
Still peddling hard, Kyle took some time to speak to the Aberdeen Voice:
"Inspiration is the biggest reason that I am here. I was inspired to get out there and do something different by people that have done something different, enduring and challenging in the past. It is really about me doing what I was inspired to do, but instead of just being inspired and doing it, I'm hoping to keep the inspiration chain going. So from one person inspiring two others, two others will inspire four others and so on."
However, this event is just a mere warm-up for a significantly more arduous challenge which faces Kyle in the New Year. On February 18th, he will be cycling out of London's Greenwich Park on an 18,000 mile circumnavigation of the globe, aiming to be back in London within 160 days in time for the opening ceremony of the 2012 Olympics.
With less than nine weeks to go until he sets off, Kyle's enthusiasm remains high.
"Time is ticking away, and even the weeks are into single figures now! It's a whole years planning coming to a head and it's really exciting to watch it all click in the last worrying few months!"
Kyle can be found in the Bon-Accord Centre atrium until Sunday evening.
For further information check out: www.inspired2inspire.org.uk