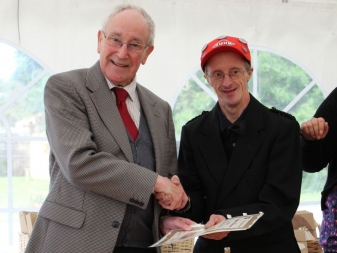 With thanks to
Claire McBain.
Local charity VSA's Easter Anguston Farm, a Peterculter-based visitor attraction that offers vocational training and support to adults with learning difficulties, is urging its local community in Peterculter, Aberdeen and Aberdeenshire to get behind its Ruby Doo, St Andrew's Day ceilidh, to mark the farm's 40th anniversary.
The Ruby Doo takes place at the Culter Mills Club, Peterculter, on Friday 30 November when Easter Anguston Farm will host an evening of live music from Dark Island, with ceilidh dancing and stovies.
While staff and service users from Easter Anguston Farm and VSA in general will attend, farm operations manager Fiona Davidson is encouraging the wider community to get involved.
Fiona said:
"Easter Anguston has been welcoming people from Aberdeen and Aberdeenshire for 40 years, as visitors to the farm and as working trainees. Friday night will be an amazing celebration of how far we've come. It was established to give students from VSA's Linn Moor School support and sheltered employment after their school years. But the farm and its service users have changed dramatically. Now, we're open to anyone in the North-east and employ from as far afield as Moray, Angus and Falkirk.
"The farm's purpose has evolved too. In recent years, the introduction of nature trails, a children's play area, farm shop, garden centre and café, has turned Easter Anguston into a tourist hotspot, popular with families with young children, school groups and older visitors.
"But our purpose remains solid forty years on. We want to develop our trainees to the point that they can secure work in the sometimes scary job market. We work on personal skills and social skills but also help develop expertise in agriculture and land-based work.
"Friday will be a fun night in aid of a really worthwhile cause with our endlessly enthusiastic service users getting everyone in the party spirit."
The Ruby Doo takes place on Friday 30 November, 7.30pm-midnight at the Culter Mills Club, Peterculter.
Tickets cost £12.50 per person, £10 for concessions and can be obtained by calling 01224 212021 or e-mailing fundraising@vsa.org.uk
For more information about VSA's Easter Anguston Farm, contact Fiona Davidson on 01224 733627.