Four Total E&P UK Limited graduates will today unveil to their colleagues Le Tour de Deeside, a fundraiser in aid of VSA's Easter Anguston Farm, a Peterculter-based visitor attraction that offers training and support to adults with learning difficulties. With thanks to Claire McBain.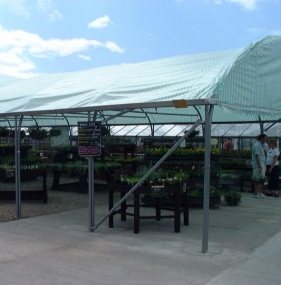 Easter Anguston Farm, run by VSA, will benefit from the takings at an adult and family cycle event on Sunday 30 September 2012.
Graduate engineers Louise Reid, 25, from Aberdeen, Jamie Kirkwood, 25, from Fraserburgh, Steven Grzywa, 26, from Portlethen and Drew Annand, 26, from Brechin have organised and will host the event for TEP UK employees, family and friends to mark the end of their graduate scheme.
Le Tour de Deeside will comprise a team cycle race along the Deeside Way, with integrated Olympic-themed challenges.
Funds will be raised from entry fees, tomorrow's internal coffee morning at TEP UK – when the Le Tour de Deeside is unveiled and its family fun day in September.  Louise, Jamie, Steven and Drew will also volunteer at the farm.
Louise Reid, graduate process engineer at Total, said:
"VSA stood out to us because we knew the money we raised would make a difference close to home.  We wanted to see the results.  It had to be a project we'd be interested in as young adults and a story people attending our event could identify with. 
"Easter Anguston Farm fits the bill perfectly.  We'll physically see our funds in use and can push the project on by donating our own time.
"I'm so excited to be part of this.  I can't wait to meet the service users and understand what the farm means to them.  Knowing our efforts will directly benefit them is a real motivator.  I want to raise awareness of VSA within TEP UK and inspire others to follow in our footsteps."
Fiona Davidson, farm operations manager, said:
"We're so grateful to be the chosen charity.  I'm positive we're giving them something back too.  This project will force them to pull together to become short-term experts in something they'd never face in day-to-day employment.  Not to mention the skills they'll develop with fundraising, event organisation and meeting our service users. 
"We're also so thankful to Total.  Corporate matching is a great initiative and will give this project a big boost."
"When they visited, we decided revamping the pond would match their estimated funds and time available.  I'm working on a major development of the farm and this was one of my initial targets. 
"Making areas like this more attractive is so important.  We don't want Easter Anguston to just be a working farm.  It's becoming an attraction where the family can spend a whole day."
For more information about Easter Anguston Farm contact Fiona Davidson on 01224 733627.
Le Tour de Deeside will take place on Sunday 30 December from 12noon.  Teams will register at the Robert Gordon University Business School, Garthdee, where a barbecue will follow afterwards. 
For further information, photographs or to arrange interviews, please contact Claire McBain on 01224 358611 or 07808768530 or e-mail claire.mcbain@vsa.org.uk