On Wednesday 12 September VSA's Easter Anguston Farm in Peterculter opened its annual one-week outdoor art gallery and sculpture trail.  This is in conjunction with North East Open Studios 2012 (NEOS), which runs a yearly event during which regional artists open their studios to the public over a one-week period. Suzanne Kelly reports.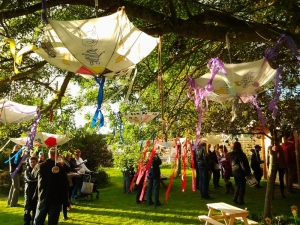 Over 70 guests attended the preview evening, and were treated to guided tours of the artwork placed around the farm's grounds.
Guests were also able to meet some of the artists – some of which are service users – and view the farm, farm shop, animals and education areas of the facility.
John Booth, Deputy Chief Executive at VSA, was one of several speakers welcoming the guests.  Thanks and floral presentations were made to several volunteers.
Alex Kay, a well-known name on the Aberdeen art scene, has a deep connection with Easter Anguston Farm's NEOS gallery; she commented
"Every year it gets bigger and more interesting.  It brings a different dynamic to the farm and the work that's done there. For the service users heavily involved in farming, it means developing a new skill set.  There are some real stars there." 
Alex and her partner Simon led a tour around the site.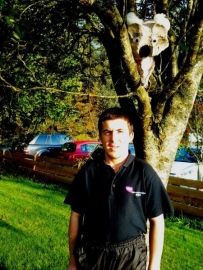 I was introduced to William Moir, who had made a wonderful sculpture of a Koala bear, which was situated in the perfect setting – a tree.  This beautiful sculpture and all of the other exhibits were extraordinary; the artwork on show radiates enthusiasm, optimism and colour; it is some of the happiest artwork I have seen in a very long time.
There is an Alice in Wonderland-themed area featuring a Mad Hatter's Tea party section, a very winsome snail soft sculpture, and an endearing painting of a rabbit.
These works are displayed in two tiny summerhouses; nearby festive umbrellas hang upside down from trees, decorated with artwork and streamers.
Elsewhere there are colourful papier mache figures copying ancient Egyptian cat mummy styles, fabric wall hangings in the form of stylised deer heads, large and small knitted panda bears by Knit Wits adorn the garden centre area.
Participating artists include children, service users and artists from a variety of backgrounds.  The sculpture trail includes remarkable works in situ including a beautifully crafted miniature pond with fish and lily pads by Heather Ivers.  A pottery dragon sculpture called 'The Watcher' by Bibo Weber adds a fantasy element.
Nearby in a small glade of conifers were realistic handcrafted miniature mushrooms, while overhead a few giant dragonflies hung from the trees.  (Unfortunately by then it was too dark for photos of 'The Watcher' to come out well, yet too light to get the glow-in-the-dark effect from the dragonflies.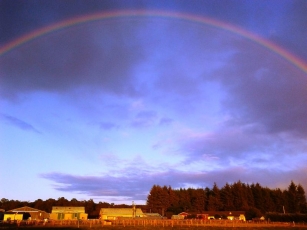 The appearance of a giant rainbow over the farmlands added a magical, happy touch to the event (and was a welcome distraction from the short-lived rain which punctuated the sunshine).
The artwork is in the farm's grounds which is a most impressive wildlife haven.  The Royal Society for the Protection of Bird's Claire Marsden was on hand and is the Red Kite officer.  Red Kites were severely reduced in number throughout the UK, but are being successfully reintroduced.
A sign explains the importance of hedgerows, what plants the hedges are grown from, and the kinds of wildlife which depends on these plants. Like the hedgerows, Easter Anguston Farm's wildlife pond also supports biodiversity and is important to the area's wildlife.
Graduate students from Total E&P UK, the Altens-based oil company, volunteered to make improvements to the pond such as building a small jetty.  These graduate students recently raised over £600 for the VSA at Total's offices during a coffee morning fundraiser, and Total is matching this sum.
The graduates' coffee morning also highlighted to Total personnel the many services the VSA provides.  The graduates have other fundraising and community volunteer projects in the near future, including 'Le Tour de Deeside' bicycle race based loosely on the Tour de France, with additional challenges added.
The organisers send their thanks to the attendees, and said:
"It was a brilliant event and we were delighted with the turnout… and even more delighted with the fact that most of the rain managed to hold off until the walk around was finished! "
The VSA's Easter Anguston Farm'  NEOS 2012 gallery is open between Saturday 15 September and Sunday 23 September, from 10am until 4pm daily with free entry, a café and free parking.
North-east social care charity VSA's Easter Anguston Farm trains adults with additional support needs, and is also a tourist attraction.  The Farm has more than doubled its artists and exhibits from 2011 and boasts a new relationship with Scottish Sculpture Workshop (SSW).
Links: 
VSA:  http://www.vsa.org.uk/
NEOS:  http://www.northeastopenstudios.co.uk/home.asp
More E. Anguston Art here: http://oldsusannahsjournal.yolasite.com/
Stop press:
For those inspired by what they see, SSW will host a workshop for visitors to make their own sculpture, keepsake or piece of jewellery.  Participants will be guided through the ancient technique of cuttlefish casting, a form of metal casting, at the drop-in sessions on Saturday 22 September between 10am and 4pm.
 Comments enabled – see comments box below. Note, all comments will be moderated.