With thanks to Trees For Life.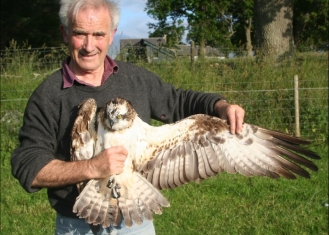 Conservation charity Trees for Life is holding a special Biodiversity Weekend at its acclaimed Dundreggan Conservation Estate in Glen Moriston on 13 and 14 July.
This event offers people the chance to explore this biodiversity hotspot and to discover the rare and wonderful wildlife of the Caledonian Forest in 2013, the Year of Natural Scotland.
The event is part of the British Ecological Society's centenary Festival of Ecology and also celebrates five years of conservation action at Dundreggan, Trees for Life's flagship forest restoration project which lies to the west of Loch Ness.
Alan Watson Featherstone, Trees for Life's Executive Director, said:
"The weekend will be an inspiring opportunity to get close to nature and to learn more about the Caledonian Forest and its wildlife. A full programme of activities will allow people to see first hand just how much is being achieved at Dundreggan thanks to the support of our volunteers and generous donors."
On Saturday 13 July, invited guests will be able to visit to Trees for Life's new tree nursery, tour a newly-planted native woodland at Allt Fearna, and plant their own tree.
From 10.30 am – 5.00 pm on Sunday 14 July, a free entry Biodiversity Open Day will include wild life tracking, a visit to montane woodlands and opportunities to feed wild boar. Guests will be able to explore Dundreggan from riverbank to mountaintop on guided nature walks, or simply enjoy the beautiful ancient woodlands.
Organisations including the SWT and Aigas Field Centre will be attending, and the day will also include the launch of the Mountain Woodland Project in partnership with Highland Birchwoods.
Dundreggan is gaining an international reputation for its remarkable biodiversity and has been described as a Highlands 'lost world'. Surveys last year revealed eight species never recorded before in the UK, adding to many rare and endangered species recently discovered on the estate – some previously unknown in Scotland or feared extinct there.
At least 67 priority species for conservation and more than 2,800 species in total have now been identified on the 10,000-acre site.
Trees for Life is planting half a million trees on the estate as well as working for the return of rare woodland wildlife, plants and insects, restoring other natural habitats and conducting scientific research and education programmes.
The British Ecological Society, the UK's academic learned society supporting the science of ecology, is supporting the event. During 2013, the society is celebrating its centenary with a series of events, conferences and publications to increase the profile of ecological science among scientists and the public.
Its Festival of Ecology, a nationwide celebration of ecological science with over 60 participating institutions across the UK, runs from 15 June – 4 August. For details see www.festivalofecology.org.
Professor Georgina Mace FRS, British Ecological Society President said:
"We are delighted to be working with Trees for Life in celebrating our centenary year.This event is part of our Festival of Ecology through which we hope visitors will learn more about the science of ecology and how relevant and fascinating this science is to understanding the challenges we face in the world today."
Trees for Life, Scotland's leading conservation volunteering charity, is restoring the Caledonian Forest to a spectacular wilderness region of 1,000 square miles in the Highlands to the west of Loch Ness and Inverness. Only a fraction of the former forest now survives, but the award-winning charity has planted more than one million trees at dozens of locations, and has created 10,000 acres of new forest.
For details about the Biodiversity Weekend, contact Fiona Limbrey on 0845 458 3505 or email fiona@treesforlife.org.uk.