Jonathan Russell will be giving a talk on the arms trade this Monday 10th November at 7.30pm at UNITE the Union, 42-44 King Street, Aberdeen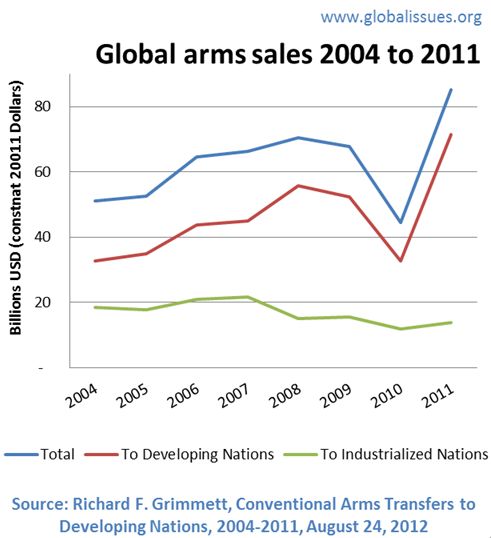 "Every gun that is made, every warship launched, every rocket fired signifies, in the final sense, a theft from those who hunger and are not fed, those who are cold and are not clothed.
"The world in arms is not spending money alone. It is spending the sweat of its laborers, the genius of its scientists, the hopes of its children… This is not a way of life at all, in any true sense. Under the cloud of threatening war, it is humanity hanging from a cross of iron."
— Former U.S. President, Dwight D. Eisenhower, in a speech on April 16, 1953
We live in a world that faces huge challenges due to climate change, natural disasters and with the majority of the world's population struggling to get enough resources to survive. Yet a much bigger priority for many governments is promoting their arms sales or buying arms. In times of recession selling arms becomes a greater priority and it can be argued that acquiring resources, in particular oil, has been a major reason for starting conflicts.
The arms trade is the main beneficiary of this. At a time when the world economy is stagnating, arms shares are rising rapidly with shares of the top 12 publicly listed firms – based on a list by the Stockholm International Peace Research Institute – rising by almost 30 per cent on average in the last year.
Stock price data on the 12 companies reveal most have benefitted in a year in which the number of conflict zones in Europe, the Middle East and Africa has risen. 2011 saw a massive rise in sales by the US and the UK to Saudi Arabia who in turn where arming ISIS.
Through our investments and pension funds we can unwittingly also be beneficiaries. For instance, our very own North East Pension fund for Aberdeen and Aberdeenshire invests in the Arms trade. The end of the cold war led to a decline in arms sales but new enemies were soon found to allow business to continue as usual. New arms technologies such as drones and security technology open up new markets
The 5 UN Security Council permanent members are generally the largest arms dealers (though others such as Germany and Italy often feature quite high and Israel is rapidly expanding its exports with its expertise in drone warfare and surveillance
World's largest arms exporters
The units in this table are so-called trend indicator values expressed in millions of U.S. dollars at 1990s prices. These values do not represent real financial flows but are a crude instrument to estimate volumes of arms transfers, regardless of the contracted prices, which can be as low as zero in the case of military aid. Ordered by descending 2013 values. The information is from the Stockholm International Peace Research Institute.
Global Spending on Arms
China has increased its spending on arms by 12.2% this year. A major reason for this is Obamas strategic decision to move the majority of the US military complex to Asia Pacific. This was done to try and contain China's rising power and has inevitably led to the beginnings of an arms race similar to the one that took place in the cold war between the Soviet Union and the US and its allies.
India and Japan are also rapidly increasing arms spending which in turn ratchets up the amount of arms spending by China. Who benefits most from this is the arms trade.
The arms industry is not an industry like any other its products aim to maim or kill human beings or destroy infrastructure. A buy product of the later is also killing and maiming human beings. War has changed dramatically since the beginning of the 20th Century when only 5% of casualties were civilians now 90% of people killed are civilians.
The aim increasingly with the use of drones etc is to limit to a minimum casualties from the country which is firing the weapon. War is a major contributor to instability and poverty. Of the 30 least developed countries in the world half have been involved in conflicts. The Lancet estimated from household data that 654,965 Iraqis died as a direct effect of the conflict from 2003-2006 and of course there have been daily killings since then.
The UN has estimated that 93,000 people have been killed in the Syrian conflict. Trade and food production are badly effected and countries are left with lack of power supplies. Shortages always lead to corruption and joining militias can become a way of surviving.
On top of this many people are displaced from their own countries living at best in refugee camps. This puts huge burdens on surrounding countries and money that could be spent on helping refugees is rather spent on more weapons.
Vietnam, where over two million deaths took place, is still recovering from the use of ancient orange and napalm. Mines laid and left behind in conflicts have been another source of human tragedy. In more recent conflicts in Afghanistan, Iraq and Libya depleted uranium has been used in bombs and this has led to horrific birth defects.
 Every year, the US Congressional Research service releases an  report looking at arms sales transfers to the developing word.
The report released on August 24th 2012 entitled 'Conventional Arms Transfers to Developing Nations 2004-2011′ known as the Grimmett report after its author Richard F Grimmett.
The Grimmett Report also notes that,
Developing nations continue to be the primary focus of foreign arms sales activity by weapons suppliers though most arms are supplied by just 2 or 3 major suppliers.
Despite the global economic climate, major purchases continue to be made by a select few developing nations in these regions, principally India in Asia and Saudi Arabia in the Middle East.
For arms suppliers, despite the impact the global economic situation has had on sales, a number of weapon-exporting nations have increased competition for sales going into areas and regions where they have may not have previously been prominent competition for sales will only intensify due to limits for growth.
Although recent years have shown a decline in sales, 2011 saw a massive jump, almost solely by an extraordinary increase in massive sales by the US, whose massive sales to Saudi Arabia distorted an otherwise downward trend in arms sales.
In 2011, the United States ranked first in arms transfer agreements with developing nations with over $56.3 billion or 78.7% of these agreements, an extraordinary increase in market share from 2010, when the United States held a 43.6% market share. In second place was Russia with $4.1 billion or 5.7% of such agreements.
Saudi Arabian imports are even set to increase with additional deliveries of the Typhoon, and deliveries of 154 American F-15 jets, scheduled for 2015.
In 2013, according to SIPRI, Saudi Arabia also bought armoured vehicles from Canada worth $10 billion. Further orders may soon be placed for armoured personal carriers from Serbia and tanks from Germany
Between 2009 and 2013, Saudi Arabia and the UAE each received thousands of guided bombs from the USA. Saudi Arabia also received hundreds of air-launched Storm Shadow cruise missiles (with a range of approximately 300 kilometres) from the UK. Mounted on combat aircraft, and combined with refuelling airplanes acquired from Spain, the range of these cruise missiles could cover most of Iran.
In 2013 the USA was, for the first time, willing to negotiate the sale of hundreds of AGM-84H missiles to Saudi Arabia and the UAE. Bahrain and the UAE also received surface-to-surface missiles from the US.
Arms sales also increased during this period from the UK from Mid 2008 until End-2010 arms sales to Saudi Arabia were 2,096m, Oman 377m and UAE 42m. From start of 2011 – mid 2013 they had increased dramatically sales to Saudi Arabia £3,436m, Oman £377m and UAE £139m- source Campaign Against Arms Trade – export liscences.
Largest arms industry companies.
This is a list of the world's top 10 arms manufacturers and other military service companies. The information is based on a list published by the Stockholm International Peace Research Institute for 2012.[14] The list provided by the SIPRI excludes companies based in China.
| | | | | |
| --- | --- | --- | --- | --- |
| Rank | Company | Country | Arms sales (US$ m.) | Total company employment |
| 1 | Lockheed Martin |  United States | 36,000 | 120,000 |
| 2 | Boeing |  United States | 27,610 | 174,400 |
| 3 | BAE Systems |  United Kingdom | 26,850 | 88,200 |
| 4 | Raytheon |  United States | 22,500 | 67,800 |
| 5 | General Dynamics |  United States | 20,940 | 92,200 |
| 6 | Northrop Grumman |  United States | 19,400 | 68,100 |
| 7 | Airbus Group |  European Union | 15,400 | 140,000 |
| 8 | United Technologies Corporation |  United States | 13,460 | 218,300 |
| 9 | Finmeccanica |  Italy | 12,530 | 67,408 |
| 10 | L-3 Communications |  United States | 10,840 | 51,000 |
Corruption and the arms trade
For a really good read on the arms trade I would suggest you read 'The Shadow World Inside the Global arms trade' by Andrew Feinstein (available in Aberdeen Central Library) where he reveals the corruption and cover-ups between the British and Saudi Governments to BAE'S controversial transactions in South Africa, Tanzania and Eastern Europe and the revolving door relationships that characterizes the Congressional-Military Industrial Complex.
He exposes in forensic detail both the formal government to Government trade in arms and the shadow world of illicit weapons and the links between the two. What I will concentrate on however will be the largest corruption scandal of them all between BAE systems and Saudi Arabia where Tony Blair blocked the enquiry in his final days of office.
The suspicion of bribery began even before the details of the deal were negotiated. Concerns were reported in the Arabic newsletter 'Gourakia' in October 21 1985 and picked up by the Guardian newspaper which had headlined on its front page:
"Bribes of £600 million in jets deal"
Denzil Davies then Labour's Defense Spokesman raised concerns in parliament. The accusations were denied by Conservative Ministers.
Later the Conservative Defense Minister, Jonathan Aitken was charged with perjury. The Al Yamah deal worth 43bn to BAE was clinched by a meeting between Prince Banda bin Sultan and Margaret Thatcher. Much of the payment came in the form of oil and was as such of balance sheet transactions and as such particularly susceptible to corruption.
Richard Evans, later to become CEO and then Chair of BAE was later involved. Mark Thatcher who was also involved in dodgy deals in Africa was also claimed to be involved. An enquiry into the whole deal was quashed on grounds of higher British interests as one of his last acts as Prime Minister.
Prince Banda bin Sultan was head of Saudi Intelligence from 2012 until February 2014 and was responsible for funding and arming ISIS.
There is so much more to say since the second world war millions have died in Korea. Vietnam., numerous African States, Indonesia , South America and now the Middle East and Ukraine and many more conflicts.
The Merchants of Death and Corruption need to be stopped.
Comments enabled – see comments box below. Note, all comments will be moderated.
[Aberdeen Voice accepts and welcomes contributions from all sides/angles pertaining to any issue. Views and opinions expressed in any article are entirely those of the writer/contributor, and inclusion in our publication does not constitute support or endorsement of these by Aberdeen Voice as an organisation or any of its team members.]