"The difference between the right word and the almost right word is like the difference between lightning and the lightning bug" Mark Twain.
Aberdeen Voice carried a feature last year about Katie Scott's quest to have a commemorative plaque erected in Inverurie for her grandfather, the Doric writer and performer Dufton Scott. Here's Katie's update.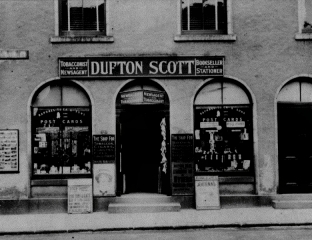 My task was to have a plaque designed and made. The chosen plaque makers, Leander Architectural, were very supportive and helpful, offering me several designs from which to choose.
I was clear about the wording; it needed to include, Dufton Scott – the refined and original Scottish humourist.
But this sparked some debate in the family. Do we say Scots or Scottish or, dare I say it, Scotch? This led to some interesting research.
I found no end of debates around these words which brought in other items of interest including,
Scot free  – very interesting!
Scotch whisky
Scotch myths and Scotch mist, Scotch broth, Scotch tape, more commonly Sellotape.
Then we have English, Scottish, Irish, British, but American, Australian, Norwegian, Saudi Arabian, Brazilian.
This was a most enjoyable and interesting detour, as I love words and looking at their origins and derivatives and so on, but the choice seemed to be made for me. Dufton had described himself as Scottish humorist on an advertising flyer which I have. Note the spelling of his occupation , which led to another battle of words. A potentially expensive one for me, as I will shortly explain.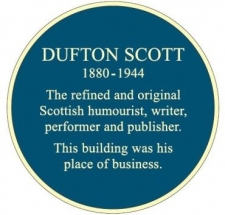 Once I had agreed the design, size and colour of the plaque, I double-checked the wording on it.
I was very happy.
It looked like this.
I paid for the production and delivery to Kellas, Solicitors. My next task was to arrange some kind of unveiling which proved to be much more difficult than I had ever imagined.
The Doric Festival is an important annual cultural festival.  The unveiling of the plaque to Dufton Scott would be an appropriate festival event, so I contacted Sandy Stronach, Festival Director, who was keen to support and help me. He wrote this on last year's Doric Festival website,
"Unveiling a Plaque at Inverurie
Robert Dufton Scott
A communiction from Katie es verra day means that it hisna bin possible tae get aathin thegidder for pittin up a plaque es eer!
But we'll leave es message here as we'll maist certainly pit on an event neist year!
So look oot for "Dufton Scott" in 2012!
Dufton Scott was a noted writer of Doric plays and performer, including Gavin Greig's "Mains Wooin".
Born in Forgue in 1880, he eventually ran a shop in Inverurie, dying in 1944.
Not before time his grand-daughter, Katie Scott, is organising to unveil a plaque to her grand-father at the site of the shop, now Stronachs,(sic) the Solicitor at High Street, Inverurie.
At this stage we do not have a date or time for the unveiling, but we have told Katie that we will be present and will help out with readings.
If like the Festival Director you remember Dufton Scott in his shop or if you remember performances of his works then this is an event you should not miss!
Keep an ee oot on es page fer the hinmast times fin they come tae han!"
Also supportive was Charles Barron, so it was with immense sadness that I learned that this great Doric playwright, academic, actor and teacher had died earlier this year.
I am also sad that I have been unable to stay in touch with Sandy, so I do not have any information about this year's Doric Festival. If anyone has this, I would love to know, do please contact me.
Another who has been of great help is Lorna Alexander, who told me that she is to perform some of Dufton Scott's work, as well has her own, in Inverurie on October 2 as part of the Luminate Festival. Since I have come to a complete dead end in finding out anything about this year's Doric Festival, Lorna kindly invited me to attend her readings at the Acorn Centre. It will be wonderful to hear Dufton's work performed, and exciting to see the plaque which will be erected by then, with one major correction.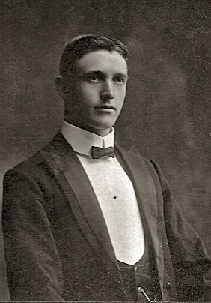 As I was going through my box of things pertaining to Dufton, I looked again at the flyer which had sparked my word hunt about
Scots
or
Scottish
.
As I said, I have always loved words and dictionaries and am always keen to learn more.
So I experienced a strange feeling as I looked again at the yellowing flyer, at my grandad's handsome face, and at the strange way he had chosen to spell humorist.
Why would he, a wordsmith, spell it incorrectly?
My expression changed from puzzlement to horror. Oh no! Did I ever even check the spelling of the word?
I dashed for my Collins English Dictionary, a huge tome, much-thumbed, heavy and lovely. I tore through the pages to find the blasted word.
Good grief.
The correct spelling, of course, because Dufton would not have got it wrong, is humorist, although this really does look wrong doesn't it?
I scrambled to the phone, but it was a bank holiday and there was no answer from Leander Architectural. I got up first thing the next day, phoned, to be told that unfortunately the plaque was already made, and ready to ship that day. Thankfully, they agreed to stop the order but unfortunately the whole plaque had to be recast. As I said, a most expensive mistake, but I am sure the people of Inverurie will be happier to know that one of the town's most famous residents is commemorated appropriately.
A group of the Scott family is descending on Inverurie for the first week in October. We shall take pleasure and pride in viewing the plaque on the wall of Kellas, Solicitors. We are looking forward to meeting Lorna and hearing her performance of two of Dufton Scott's pieces. If you have any memories of Dufton Scott, do please get in touch. We could share a wee dram!
It would be wonderful if we could also find the other grandchildren of Dufton Scott. Our father was Gavin Scott, but he had a brother, Robert, who had two girls, Frances and Margaret. What a joy it would be if we could trace them too.
e-mail –  Katie.scott@gmx.com
http://www.phrases.org.uk/meanings/scot%20free.html
http://www.grammarphobia.com/blog/2010/09/scot-scotch-scottish.html
http://www.charlesbarron.co.uk/
http://www.luminatescotland.org/events/value-age-doric-sketches-lorna-alexander
 Comments enabled – see comments box below. Note, all comments will be moderated.