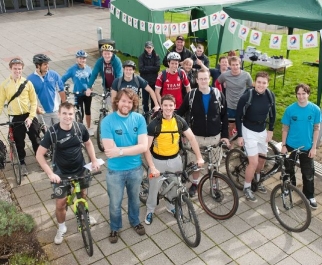 With thanks to
Claire McBain. 
This week four charity-focused graduates employed by Total E&P UK Limited (TEP UK) officially revealed a fundraising total of more than £3,400 after recreating the Olympic spirit to host Le Tour de Deeside. 
The proceeds of this event are being used to benefit VSA's Easter Anguston Farm.
Graduate engineers Louise Reid (25) from Aberdeen, Jamie Kirkwood (25) from Fraserburgh, Steven Grzywa (26) from Portlethen and Drew Annand (26) from Brechin, organised and hosted the event for TEP UK employees, plus family and friends, to mark the end of their graduate scheme.
Le Tour de Deeside comprised teams cycling the Deeside Way, with integrated Olympic-themed challenges.  Later this year, the foursome will use their funds and volunteer their time to rebuild the farm's pond.
Easter Anguston Farm, run by VSA, the UK's largest city social care charity which supports people in Aberdeen and Aberdeenshire, will benefit from funds raised from Le Tour de Deeside entry fees, plus the proceeds of a coffee morning and family fun day run at TEP UK in September.
TEP UK matched the amount raised by the graduates total to achieve the amazing final total of £3,400.
Fiona Davidson, farm operations manager, said:
"£3,400 is fantastic.  We'll be able to build the new pond and do something else too.  Corporate matching is a great initiative and will give this project a big boost.  Some of our service users went along to Le Tour de Deeside and had an amazing time meeting the TEP UK staff.  They're a brilliant bunch."
Louise Reid, graduate process engineer at TEP UK, said:
"Our initial target was around £2,000.  We're so chuffed to have so much more than that.  I'm so happy we've managed to ignite so much fundraising excitement in our colleagues.  I want to keep raising awareness of VSA at TEP UK."
For further information about Easter Anguston Farm you are invited to contact Fiona Davidson on 01224 733627.