By Suzanne Kelly.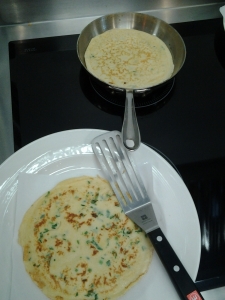 Some months back I had a chance to take a full day course at the Nick Nairn Cookery School, but I never got my schedule straightened out in time to sign up.
Instead, I found time for 'Quick Cook: Classic Crepes' – a two hour lunchtime course.
I am not the most easily pleased person, but I can truly say this course was everything it should have been – instructive, enjoyable, hands-on, perfectly structured, and the results were delicious.
I already knew how to make crepes decently – so I thought.  Louise's techniques (different and clearly superior to my usual style) were demonstrated with enthusiasm and clarity.
We were all flipping crepes and turning out beautiful, perfect golden specimens by the time Louise was done with us.  The other students were clearly having fun, and one woman was profusely thanking her friend for taking her there as a gift.  And that was even before we tasted our handiwork.  The immaculate, state-of-the-art cooking area and dining bar were a joy to work and eat in.
The savoury crepe we were making was to be filled with a smoked haddock and cheddar sauce with herbs.  I decided to taste some of the herbs before adding – and I've never had better except perhaps from my garden.  Louise explained what to avoid when buying smoked haddock (ie artificially coloured fish which often has other additives) – what we had ingredient-wise was the best you'd be able to get – I wish I could remember where in Scotland the cheddar was from.
As we sat down to eat the crepes we'd created (garnished with rocket), Louise demonstrated how to do Crepe Suzette.  This dish may be retro to some, but I personally love it, and it is apparently gaining in popularity.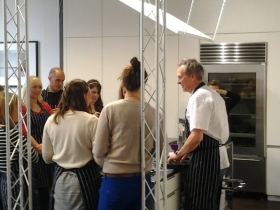 There was no time for us to make the dish ourselves – but with the skills we had learned and what was demonstrated, we will all be able to replicate it at home. Suffice it to say that the Crepe Suzette she served the students was better than any I'd ever made, or that I'd ever been served.  (I make my own variation which I call 'Crepe Suzanne' with Jack Daniel's – and I'll be trying that very soon with my new skills).
I'd learnt a better way to cut and dice, a faster and more successful way to make white sauce, and I've taken away a dozen other hints and tips.
Don't bother trying to get on the next crepe course – it's already sold out.  But whatever your level of cooking or your specific culinary interest, there is a course for you.  I'll be on the next full day Nick Nairn course I can get on.
Eleven out of ten.  This is a win for Aberdeen, and I wish the school every success.