Scouts from across NE Scotland celebrated as Chief Scout Bear Grylls made a guest appearance at the Bear Hunt 2012 camp, held at Templars' Park. Taking in the Aberdeen Scout campsite on a whirlwind tour of Scotland and Northern Ireland, Bear was greeted by over 1500 Scouts of all ages. Thanks to Eoin Smith of Mannofield Explorers.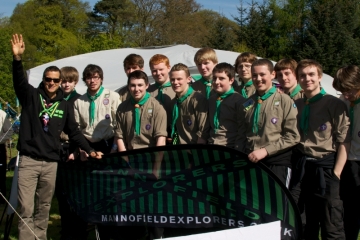 Bear entered the campsite via the 9th Aberdeen Scouts' traditional canvas tent site and was met with a Guard of Honour.
He was subsequently shown around the park to experience the numerous attractions and activities, including a cycling base run by the 14th Aberdeen Scouts.
He then delivered an inspiring speech before checking out Templars' Park's new campfire circle on his way back to his helicopter, high-fiving as many Beavers, Cubs, Scouts and Explorers as he could on the way.
One Explorer Scout Unit received a massive surprise, when Bear arrived wearing one of their hoodies.
The Mannofield Explorers had sent this to Bear earlier in the year to thank him for inspiring their Scouting, but little did they realise that he would wear it on his whole tour. Upon finding the Unit attending, Bear chatted and posed for photos with the group of enthusiastic and understandably excited 14-18 year olds.
Explorer Calum McRobb, 16, said,
"It was a real honour to meet Bear Grylls. We're all big fans, and to see him wearing one of our hoodies was amazing.The whole Bear Hunt has been fantastic."
Craig Allison, 27, Explorer Scout Leader at the Mannofield Explorers, added,
"We were delighted that Bear chose to wear his hoodie this weekend. It was a real shock when we saw him step through the trees.
"We sent it earlier this year to thank Bear for all he has done for Scouting since being appointed Chief Scout in 2009 and also for inspiring us to be as adventurous as we can at Explorers."
In a time where over 30 million Scouts have taken their Promise worldwide, Bear Grylls is certainly playing his part in keeping British youths enthusiastic about being a part of the Scout Movement.
Assistant Explorer Scout Leader Eoin Smith, 21, concluded,
"By wearing our hoodie around the UK, we hope that Bear has been able to spread the word about Scouting in Aberdeen. There are so many exciting opportunities and experiences to be had in Scouting, and adult volunteers are doing a fantastic job providing everyday adventure for over 1,500 young people in the city."
 Photo credit: Craig Allison