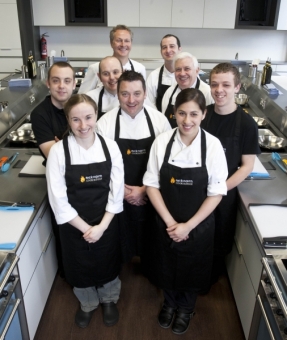 By
Suzanne Kelly.
Nick Nairn's long-awaited Aberdeen Cook School, which opened its doors on 9th May, caters to a demand from would-be cooks from across the country.  The £500,000 project is providing further jobs and a tourism boost to the north-east of Scotland.
The new Aberdeen Cook School has been a passionate desire of Nick's for several years and is located in a stunning listed building – formerly St Nicholas Kirk's old church hall in the city centre – which has been transformed into two separate state-of-the-art foodie havens.
Work on the building has been carefully designed to enhance original features such as the carved mouldings and stained glass windows, alongside striking stainless steel and white kitchen areas, designed by Kitchens International.
The new cook school follows on from the success of the Nick Nairn Cook School in Port of Menteith, near Stirling, and Nick explains:
"We have a disproportionate number of people coming to our existing school from the north-east, so an Aberdeen school seemed a natural progression.  Also, the north-east is a farming community and some of the finest produce comes from here.
We have found that cooking enthusiasts from this area are passionate about developing their skills and particularly enjoy entertaining at home.  They can commit time to learning due to their working patterns and disposable incomes."
Nick will also be trialling a brand new venture in the new cook school, with after-work and lunchtime classes at its Quick Cook Bar.  This is a new urban concept where participants can cook, learn and eat in two hours, picking up invaluable tuition from basic knife skills to creating culinary masterpieces.
Nick said:
" It will be perfect for people who work during the day.  You can pop in after work or do it over a long lunch-break.  It's also an affordable place for students to come along and learn to cook for themselves."
The Aberdeen Cook School is employing 10 people, as well as two well-known chefs heading up Nick's team.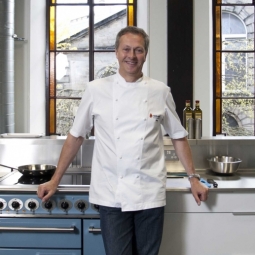 Head chef Kenny Smart, who joins from the prestigious 1906 restaurant at His Majesty's Theatre in Aberdeen, will run the large teaching kitchen upstairs.  The Quick Cook Bar area downstairs will be overseen by Louise Chapman, previously restaurant co-ordinator for the hugely successful Taste Festivals.
Nick will also teach classes on dedicated days, as well as the cook school's established chef John Webber.  John brings more than three decades of knowledge and experience, having trained with Anton Eddelman and Anton Mossiman before being awarded his own Michelin accolades in the country house hotels he previously worked in prior to joining forces with Nick twelve years ago.
While full-day classes for 24 people will be held upstairs at the Aberdeen Cook School, the ground floor level will also feature a cook shop, selling essential kitchen kit from a £5 heatproof spatula to a £3,000 Falcon range cooker – and gadgets that gather absolutely no dust.
The new Nick Nairn Aberdeen Cook School also makes an exceptional private hire venue with bespoke options – including Nick himself – being available.  Various gift cards are available for classes as unique, thoughtful presents.
Aberdeen classes start from Sunday 20th May and can be booked now via www.nicknairncookschool.com or by calling 01877 389 900.