A major retrospective exhibition of the work of Scottish painter Ewan McIlwham opened at the Podgers Hall in Pumpherston last week.   Special Correspondent for Arts and Culture  Gubby Plenderleith  reports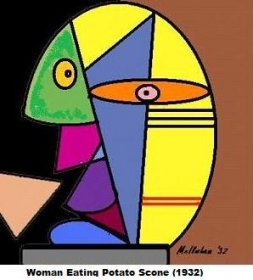 McIlwham, a recluse who has led a solitary and ascetic existence on the West Coast island of Gin for the last twenty years, has been an enigmatic and controversial element in the chemistry of contemporary art since he first launched his
Woman Eating a Tattie Scone
on an unsuspecting public in 1932.
The model for this revolutionary piece was his muse, the legendary Senga, who featured strongly, both descriptively and metaphorically, in his early work.
Senga was a seventeen-year-old factory girl when McIlwham was first entranced by her elfin-like beauty and asked her to sit for him.  But the artist/model relationship, at least as far as McIlwham was concerned, was soon to metamorphose into an all-consuming passion which knew no bounds.
It was therefore a shattering blow to the painter when in 1934 he learned of Senga's elopement and subsequent marriage to the critic Edwin Cohen.
Indeed, so traumatised was he by the news that McIlwham, in a fit of emotional instability, attempted to cut off his right ear. In the blindness of his excited mental agitation however, he was successful only in severing a tendon in his right hand.
Fate nevertheless plays strange tricks, and it was this seemingly tragic episode which forced McIlwham to choose between forsaking his beloved painting and returning to his job with Customs and Excise, and facing the painstaking and gruelling exercise of teaching himself to paint with his left hand.  McIlwham chose the latter.
It was this turn in his own personal tide, this caprice of Providence, which set him on the life-long quest which was, in time, to afford him the accolade of attaining the ultimate artistic achievement – of discovering the symbolic silver sixpence in the metaphorical dumpling.
From the point in time when McIlwham 'changed hands', he forged ahead using his new style: those tremulous, almost tentative, lines which he used in the execution of his craft and which were to become his trademark, the unique stamp of the master.
McIlwham's strong attachment to Joey was a substitute for his erstwhile infatuation with Senga
His technique, to my mind, was never better than in Still Life with Budgie which he completed in 1936, two years after Senga's elopement. He did not publicly exhibit it until 1939, by which time his significance, some say notoriety, as a major aesthetic visionary was widely acclaimed.
This painting, in which the elongated cubist form of the central subject is dramatically juxtaposed against the crude monochromatic linear background which is ambiguous while retaining perceptive lucidity and a solidity of definition which permeates tenuousness, remains my own personal favourite.
Indeed, I have yet to encounter a more overwhelming tour de force than the ingenious placing of the cold fish supper in the bottom left hand corner of the canvas. It is a master stroke which surreptitiously harmonises with, while creating a surreal counterpoint to, the budgie.
His subject was, of course, his beloved Joey, McIlwham's constant companion from 1935 until the bird's demise in 1947.
Many people have postulated that McIlwham's strong attachment to Joey was a substitute for his erstwhile infatuation with Senga.  Indeed, Michael A. Buenoroti in his Life of a Recalcitrant Genius makes much of the surrogation theory and takes the further step of suggesting that the characters of Senga and Joey are empathetic to his right and left hands, such a parallel being perceived as a powerful driving force for physical and emotional survival.
Others, notably Hew Janus, have produced convincing documentary evidence which adds credence to the suggestion that Joey was originally owned by McIlwham's mother and was given into his unwilling care at the time of his mother's committal to a mental institution in 1935.  Some observers have also noted the irony of McIlwham's own committal only two weeks after Joey's death in 1947.
But, for whatever reason, the McIlwham/Joey cohabitation was instrumental in the production of some of our finest works of contemporary art. Any analysis of the phenomenon neither enhances nor detracts from the resultant work.  As McIlwham himself once remarked when questioned on the subject,
"Wid yis count the beads o' sweat on a jiner's broo tae see if the table he wis makin' wis auny gid?"
Time and space, alas, preclude a deeper examination of the life and work of Ewan McIlwham – the course of his life, from customs officer to painter; from unrequited lover to left-handed bird fancier, from his living nightmare in a mental institution to his relative obscurity in a boarding house in Largs, before his eventual, lonely, retreat to the island of Gin.
Alas, too, we must forgo an in-depth catalogue of his work; his Budgie at Bay, the startling Rape of the Budgie Woman, his poignant When Did You Last See Your Budgie, the emotive Laughing Budgie and even his series of lithographs depicting Trill packets.
What better postscript then, than the sentiment expressed by McIlwham himself on his recent, rare, public appearance at the opening of his current exhibition:
"Whaur's yir Pablo Picasso noo, then?"
Yes, where indeed?