The game was so drab that not even a proper match reporter would trouble themselves to dissect it minute by minute.  I'm only here to give you the general gist, says Voice reporter Andrew Watson, and the most I can say is that only refereeing decisions conspired to make this game even remotely as noteworthy as the goalless draw against Hibs the other week.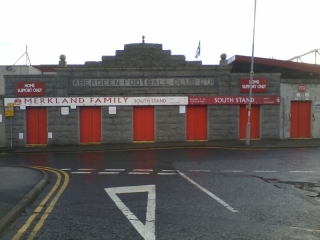 I can't help but feel that the pitch, badly cut up from the Scotland game on Wednesday, was little excuse for the poor fare served up to fans.

The state of the pitch equally hampered the efforts of a high-flying St Mirren side, not just the Dons, and passes, both on the deck and in the air, were so off-target it beggared belief.

Just about the only player that merits mention, for the right reasons, is Buddies' captain Jim Goodwin.

When Aberdeen were applying one of their few genuine periods of pressure, an incoming ball was swatted away by his diving header. A stunning sight to see. Talk about putting your body on the line. Even shoplifters wouldn't evade his capture.

Immediately he was on his feet, castigating his defenders, urging and leading with an all-or-nothing attitude that no doubt inspired his teammates.

Unfortunately, Osbourne, the only Don showing a scintilla of that passion, was booked for his troubles. The fans were up in arms when he was shown yellow for an excellent tackle. He was deservedly declared man of the match.

It was hard to sympathise with Reynolds' reckless shirt-pulling, for which the team would later pay a heavy price.

After the interval, Magennis replaced Robertson to spruce things up in 67 minutes. Hughes left the pitch at the 71 minute mark, with Vernon coming on. Reynolds was dismissed a minute later for deliberate handball.

Pawlett was then taken off for the equally youthful Smith, 75 minutes into the game. One questions the wisdom of replacing a relatively inexperienced youngster with another after losing an experienced player through a red card.

I kind of feel for Brown. Maybe he thought fresh young legs would inject the necessary urgency to nick a late goal. I sometimes wonder if he's suffering as McGhee did, in that perfectly capable players just aren't playing for him?
the team were last to just about every ball, shoved off it when in possession and outfought in the air
Anyway, it seemed that only refereeing decisions were uniting the fans behind the team. I don't know if this is fans' short-sightedness in ignoring poor form, or a level of loyalty unacknowledged by the press – quick to point out fair-weather support and poor Pittodrie attendances.
Referee John Beaton was pedantic in his pursuit of soft fouls and continuously stopped the flow of play. The best referees, as they say, strike a balance between letting play flow and maintaining discipline, but, hand on heart, he made bizarre decisions that angered both sets of fans throughout the 90 minutes
That is beside the point, though.  If the referee's performance highlighted anything, it would be Aberdeen's complete inadequacy against a very physical St Mirren side.
Although he did a bit to protect McGinn, the team were last to just about every ball, shoved off it when in possession and outfought in the air. They weren't imposing in the box, and that's why they didn't score. Our players weren't tall enough!
Would Goodwin's last gasp dive to put the ball out for a corner earlier really have prevented a genuine goal scoring opportunity? At least he took no chances, unlike our favourite goalkeeper.
Credit to Jamie Langfield, though. He saved blushes late on with superb save, even enjoying a little bit of defensive luck when a teammate cleared the rebound. He then proceeded to try his damnedest to undo this, fluffing a pass back and nearly letting it roll over the line. Typical Dons!
He then got sarcastic cheers for actually making a connection, minutes later. Typical Red Army!
They were booed off the pitch, and quite right too.
Final score:  0-0.