It is difficult to show more empathy towards  injury-stricken Dons when the fare on offer is as drab as this! Andrew Watson reports from Pittodrie.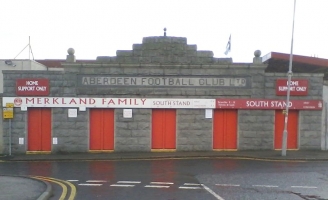 The way things were going initially, it looked like this was heading towards a rather unremarkable 0-0 draw.
As it was though, we were served up controversy and bookings aplenty just on the edge of half-time as a Killie man came one on one with Langfield before being taken down.
Although he was the last man, a red card for Langfield seemed a bit harsh as the felled man was not exactly in the best of positions to score.
The weight of expectation fell on the shoulders of substitute keeper Brown, who came on for Fallon after 45 minutes to face the resultant penalty kick.
0-1 (Kelly) after 45 minutes.
Ignoring the fact they were a man and a goal down, it seemed a curious decision to take Fallon off the pitch.  Now, I must admit that I've given the Kiwi a hard time of late, but maybe his resurgence since scoring at Fir Park merited a longer stay on the pitch?
The only fault I could find with him is something I've observed throughout his stay at Pittodrie.  This is his propensity not to go for headers and try and win high balls that come towards him.  Why put a 'big man' at the top of the pitch if he doesn't pose an aerial threat?
Back on for the second half, and the Dons were dominating possession.  Plenty of passing in and around the Killie box, but nothing incisive.
Magennis did manage to bundle it over the line, but was cautioned for his clash with the Killie keeper.  Masson then came on for Considine after 70 minutes.
It wasn't the Dons' day as the same Ulsterman rocketed a high ball towards goal.  We hoped for a miracle earlier, and that Brown would save the penalty.  Maybe the ball would burst the roof of the net?  Not a chance, the ball smacked right off the crossbar!
However, if every dog has its day, eventually, then the terrier-like efforts of Shaughnessy were applauded when he was replaced after 80 minutes.
He was the only good thing about this game, from an Aberdeen point of view.  He's in the mould of Ryan Jack, but surprisingly silky and a bit taller.  That can only be a good thing, as a defender!  Youth replaced youth as McManus came on for Shaughnessy.
Six minutes later, the Rugby Park men then got away on the break and cut the ball back across the mouth of the Dons goal.  The ball was expertly dispatched.
0-2 (Kelly) after 86 minutes.
To be honest, the angle available to the scorer favoured Brown more than anyone else.  Would Langfield have got a touch to it?  Who knows, and truth be told, who cares?
Well, some of the Main Stand faithful did.  They remained adamant the delivery into the box was received from an offside position.
Perhaps they were right.  I noticed a tendency of our back four to try and spring the offside trap upon wayward attackers prior to this point in the game.
No joke, I spent many moments earlier thinking 'what if the next time, they put their hands up for offside, and neither the referee nor linesman agree?'
Anyway, it came to fruition and I have no reason to be smug.  Why would I be when it's at the expense of my own football team?
Another rather annoying tendency also became apparent.
Perhaps after realising that plenty of possession in and around the penalty area without forward motion was pointless, they changed tack  and began lumping the ball forward in hope of that elusive long ball that would unlock Killie's back four.
Unfortunately these balls were lacking in accuracy, and very disappointing to watch.
It's therefore I admit, in a rather shamefaced manner, that I couldn't wait for the game to end.  When they announced four extra minutes I could have cried.
Final score:  0-2.
As I have previously expressed, I worry what will happen to the Dons when Fraser leaves.  They'll really have to rethink tactics to salvage this season.  When you lose a player with so much creativity, coupled with the frustrating inconsistency of fellow wingers like Hayes, attacking plans go out the window.
I remain convinced any victory gained in Fraser's absence will come out of dogged endeavour rather than the skill and incision he brought to the fore.
Dear Santa, a Scottish Cup – against all odds – for Aberdeen, please?