The Olympic Torch may have left the Granite City but this week an Aberdeen-based charity will recognise the worthy efforts of 25,000 unpaid carers who 'carry a torch' for someone who is ill, frail or disabled in the city and shire. With thanks to Claire McBain.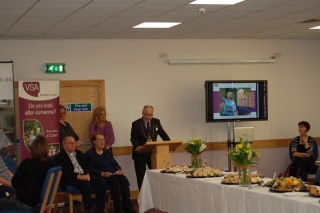 Aberdeen City Council, VSA's Carers' Service and NHS Grampian hosted an Olympic-themed celebratory lunch on 19th June to mark Carers Week 2012 and to honour the personalities behind Aberdeen's thousands of hardworking and unpaid carers who metaphorically '
carry a torch'
for a relative or friend.  Carers' Week runs from 18th – 24th June, 2012.
VSA will also reach out to local carers with pop-up information stalls across the city, highlighting services that help balance vital caring roles with other commitments. 
A recent Carers' Trust poll revealed that 60% of unpaid carers found their mental health was affected by their role.  Fittingly, the theme for this year's Carers' Week is In Sickness and Health.
Diane McCabe, Director of Social Care and Wellbeing at VSA, said:
"Aberdeen and Aberdeenshire carers deserve gold medals for their hard work.  There's not just one local champion, they're all our local heroes.
"By getting involved in Carers' Week 2012, we can highlight and improve conditions for the 25,000 unpaid carers in Aberdeen city and shire, some suffering health and career problems as they try to look after sick or disabled relatives without help.
"We want to make life easier for these torchbearers and those they look after."
According to Carers UK, there are nearly 6 million carers in the country.  The Scottish Household Survey, conducted by The Scottish Government in 2010 reported 657,300 carers north of the border, more than 25,000 of which live in Aberdeen City.  Within this, there are an estimated 2,240 Young Carers in Aberdeen and far more 'hidden carers,' both adult and child.
Diane continued:
"Many suffer due to a lack of understanding about what they do.  Some don't even recognise themselves as carers."
Christine Carle has used VSA's Carers' Services for more than 16 years.  When caring for her daughter with additional support needs, her son fell into the role of 'mummy's help.'  The Young Carers' service, for her son, was her first contact with VSA.
She said:
"All children rely on their parents to look after them so you don't realise you need the help.  You think it's just part of 'being mum.'  You just get on with it.
"I wouldn't be where I am now without VSA's Carers' Service.  I've reached several milestones I didn't think would be possible.  I've now got a job for the first time since my daughter was born.  Help and support makes such a difference to your own health.  The happier you are in yourself the better you are for looking after someone.
"It can be a big step picking up the phone, or walking through the door for the first time.  But I'd urge other carers to get in touch.  It will open so many doors.  It's been a godsend to me."
Christine's son, a local councillor, is now 22.  Her daughter is 18 and, along with Christine, will continue to use VSA's Carers' Service for a long time.
Aberdeen Lord Provost George Adam, who was a speaker at the Olympic-themed lunch said:
"Carers are the unsung and unpaid heroes in our community.  All face different circumstances looking after relatives, loved ones and children who have needs that must be met in different ways.
"The two things they all have common are a selfless devotion to those they care for and determination to make lives as good as possible for the people who rely on them.
"We, as a city, can't hold carers in a high enough regard.  It is vitally important that we raise awareness of the work they do and highlight the support and representation that is out there for them."
For more information about Carers' Week events visit www.carersweek.org
More information about VSA's Carers Services, can be obtained by visiting their headquarters at 38 Castle Street, Aberdeen, calling them on 01224 212021, or visiting their website at www.vsa.org.uk