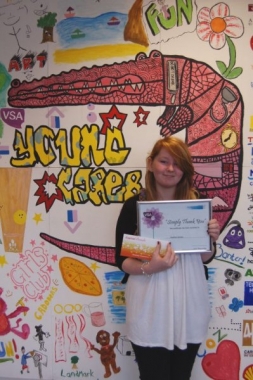 With thanks to
Karen Barlow.
On Thursday 18 October 2012, 14-year-old Heather Davies, a young carer supported by VSA, the UK's largest city social care charity, saw her selfless efforts recognised by a local councillor at an awards ceremony in VSA's Chill Out Zone.
Chill Out Zone is a dedicated space at VSA's Castle Street headquarters where young carers can be themselves and have fun with like-minded youngsters.
There are an estimated 2,240 young carers in Aberdeen who try to look after a sick or disabled relative without help.
Simply Thank You, sponsored by Aberdeen-based funeral directors Wm Gilchrist and directly supported by VSA's Young Carer services, was launched earlier this year in a bid to encourage more young carers to seek help.
VSA, which looks after more than 2,500 of the most vulnerable people in the north-east, and Wm Gilchrist select an exemplary young carer each quarter.
Hard-working Heather was awarded a certificate and high street gift vouchers from Councillor John Reynolds, former Lord Provost, to mark her outstanding efforts in looking after her Mum.  Heather has been caring for her Mum for several years. Heather provides her mother with emotional support and looks after when she is unwell.
Heather is an only child and provides this care on her own. Heather balances this caring role with studying for her standard grades and the day to day struggles of growing up.
Bobby Gunn, Community Officer at Wm Gilchrist, said:
"We pioneered this scheme because we wanted to give something back to the community.  We've had links with VSA for a long time but only recently heard about young carers.  To say we were amazed at the responsibilities these young kids take on would be an understatement.  We wanted to show appreciation and remind young carers that, although it might feel normal to them, they are actually making a very special contribution to their local community and the lives of their loved ones."
Mhairi Craigmyle, young carers education support worker said:
"VSA's Chill Out Zone belongs to the group of young carers.  Here, they can do things that most children would probably take for granted: get help with homework, find a new hobby or just relax and chat to someone in a similar situation.  We fundraise to take them on trips too, giving them a little respite from life at home.  However, there are still lots of 'hidden young carers' out there.  We're desperate to reach out to as many as possible."
Earlier this year, Aberdeen Lord Provost George Adam, spoke on this topic at a lunch organised by Aberdeen City Council, VSA's Carers' Service and NHS Grampian:
"Carers are the unsung and unpaid heroes in our community.  It's vitally important that we raise awareness of the work they do and highlight the support and representation that is out there for them."
For more information about VSA's Carers Services, visit our headquarters at 38 Castle Street, call 01224 212021 or visit our website at www.vsa.org.uk.