With thanks to Claire McBain.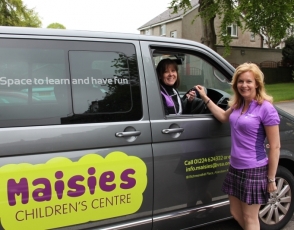 The UK's largest social care charity –Voluntary Services Aberdeen – is celebrating the arrival of a new people carrier at their Maisie's Children's Centre. The Volkswagen Caravelle was purchased after hard work, determination and training from Maggie Wilson, Chair of VSA's Trustees, and fellow Trustee Rosy Wood who pounded the pavements of New York in November's marathon, raising £12,000 for VSA.
Sporting VSA tartan mini kilts, Maggie and Rosy crossed the NYC finish line in style after just five hours and ten minutes.
Maggie said:
"We finally achieved our aim – an amazing 26.2 mile street party and a tough marathon.  We were assured the pain was only temporary but the pride and sense of achievement is permanent.  I'm delighted to now see the fruits of our labour in the form of a much-needed people carrier."
Elaine Michael, day care manager at VSA's Maisie's Children's Centre, added:
"I'm over the moon to be receiving the Volkswagen Caravelle.  The enthusiasm and perseverance of people like Maggie and Rosy gives us the opportunity to support our service users with important equipment when we need it.
"Transport like this is crucial to our services where we have children in our care.  We use it to take children out and about on trips and to support parents who need transport to medical appointments.  This vehicle, which seats up to seven, is ideal for us. 
"Rail-mounted seats can be positioned to suit the needs of children, including those in wheelchairs.  Flexible configurations mean we can have staff facing the children in the back, keeping them entertained during longer journeys."
The Richmondhill Place-based centre, which opened in October 2011, is the only one of its kind in Aberdeen.  The nursery aims to break down societal barriers and is pioneering integration between mainstream children and those with additional support needs in the north-east.  Maisie's Children's Centre welcomes youngsters from birth to five years old.
Elaine continued:
"Maisie's Children's Centre evolved out of the playgroup that was in its place for twenty years before.  We aimed to extend the local care offering after Raeden Nursery School closed, providing a one stop service, rather than two, per day for parents who have a mainstream child and a brother or sister with additional support needs.  Our long opening hours mean flexible options for working parents too." 
Maisie's Children's Centre is based at 18 Richmondhill Place, Aberdeen.  To find out more about using the service or spaces for children, contact Elaine Michael, day care manager, on 01224 358571 or e-mail Elaine.michael@vsa.org.uk