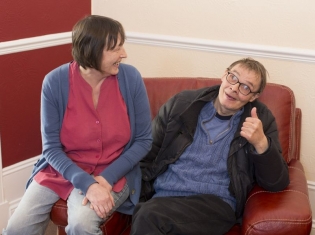 With thanks to
Claire McBain. 
VSA, the UK's largest city social care charity, is embarking on a month-long recruitment drive for its older peoples' services, mental health services and Linn Moor School.
As part of the drive, it will be aiming to dispel care industry stereotypes, demonstrating that VSA is pioneering a new generation of care work careers.
Supporting more than 5,000 people in Aberdeen city and shire each year, VSA employs around 500 full and part-time workers and has created city-wide vacancies after completing a 2-year plan to refurbish and improve its services.
The call for staff comes as VSA aims to boost positive impressions of the care industry.
VSA director of social care and wellbeing Diane McCabe told Aberdeen Voice:
"We're totally committed to opening the eyes of the public to the exciting, forward-looking opportunities of social care. There's a misconception that to apply to an organisation like VSA, you need a care-related qualification. This is absolutely not the case.
 "It's all about caring for the community you live in. Obviously we welcome qualified support workers but it's also great to hear from naturally compassionate people who can use their personal experience to get ahead professionally.
"We want to hear from people who have brought up children, looked after a disabled relative or even just cared for an ill friend. Regardless of job history, if you have the life skills, we'll provide the training to turn what could be 'just a job' into a career."
Helen Dunn, support worker at VSA's Arrdeir House, said:
"Anyone can do it. My last job was teaching English as a foreign language. But wherever you've been and whatever your skills, there's a place for you at VSA. My teaching skills transfer well into this job and natural people skills enhance it. My hobbies are cooking and gardening, so I bring that, too. I've started a culinary group at Arrdeir and help the service users in the garden."
Nicola Lindsay, support worker at VSA's Millbank House, said:
"I used to work in catering but was always intrigued by support work. What I brought to the job was my experience of caring. All my official training has been on-the-job. Working at Millbank has given me the opportunity to progress with my career."
A VSA recruitment day will be held on 29 November 2012 at Union Square (upper atrium) between 9am-6pm and at 38 Castle Street between 10am-4pm. For more information or to apply for a position, visit www.vsa.org.uk/jobs, e-mail HR@vsa.org.uk or call 01224 358589.