"THOMAS GRADGRIND, sir. A man of realities. A man of facts and calculations….. Thomas Gradgrind now presented Thomas Gradgrind to the little pitchers before him, who were to be filled so full of facts." (Hard Times, 1854)
The master of 19th century fiction may have caricatured imagination-free learning thus, but would have been heartened by the spirit of the questioning and discussion evident during the meeting of the nascent Aberdeen Dickens Fellowship on 26 June.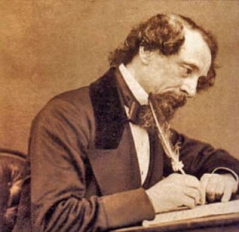 By
David Innes
, with thanks to
Dr Paul Schlicke
.
p.schlicke@abdn.ac.uk
Illustrating very well the group's desire to ensure that appreciation of Dickens's life and work is enhanced in an atmosphere of mutual understanding and fun, Dr Paul Schlicke, an academic, who is anything but dry and who displays not as much as a single speck of dust, shared his globally-renowned knowledge of Dickens's life with fellow travellers.
There were questions on the effects of economic circumstances and social class on the author, the influence of his travels on his writing and whether or not his finely-tuned populist artistic antennae would see him wrestling with Rhianna – definitely not 'old, fat and toothless' as Maria Beadnell described herself – for music chart supremacy were he celebrating his 20th birthday this year rather than his 200th
It was a fun evening, and it is the group's intention that these will continue, with some plans already in place.
On Thursday 30 August, Miriam Margolyes will perform her one-woman show, Dickens's Women, in the University's Arts Lecture Theatre. Tickets are selling well, and can be had from Aberdeen Box Office, 01224 641122. www.boxofficeaberdeen.com
The next gathering of the group will take place in September and members will be invited to give a party piece, by reading favourite passages from Dickens. Our Parish, from Sketches by Boz, will be the group's text for discussion.
On Thursday October 11, James Naughtie, Rothiemay loon, University of Aberdeen alumnus  and scourge of politicians on Radio 4's Today, will lecture on Dickens. The topic and venue will be announced at a later date in Voice.
Dr Schlicke is negotiating with a renowned Dickens biographer to speak to the group and Keith O'Sullivan, Senior Rare Books Librarian, has offered to set up an exhibition of the University's Dickens treasures, of which there are many. In fact, Aberdeen itself has one of the very best Dickens collections in the world.
There is unanimous agreement that there will be a future session devoted to the Downie Slauchter, the Aberdeen murder mystery featured in Household Words in1852.
There has been a call for a series of discussions based on Dickens and ********  topics and those on the mailing list have been invited to suggest such themes for future meetings. Add in further suggested Dickensian events and a schedule for the 2012-13 season is looking very viable.
The group aspires to become the first Scottish affiliate to the Dickens Fellowship and urges anyone with an interest in the author to join in the activities.
https://sites.google.com/site/aberdeendickensfellowship/
What larks!
Comments enabled – see comments box below. Note, all comments will be moderated.