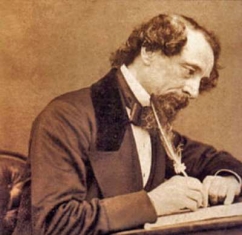 Dr Paul Schlicke of the Aberdeen branch of the Dickens Fellowship has been in touch to confirm that an evening of first class Dickens-related activity will be going ahead on Tuesday 9 July in the University of Aberdeen's Sir Duncan Rice Library.
Dickens, Journalism, and Fellowship: An Exhibition, Lectures and an Online Tour
will be hosted in collaboration with The University of Aberdeen Centre for the Novel and The Friends of Aberdeen University Library.
Dickens's talents as a novelist and performer are well-known.
What can be overlooked are his considerable journalistic talents and his voluminous output, both as a Parliamentary reporter and as a periodical journalist.
Dickens lived in times of colossal social upheaval and chronicled the times as a journalist as well as a novelist.
To give further context to Dickens's work in the journalistic field, visitors will have a unique opportunity to view the exhibition of 19th century journalism devised by Anthony Burton, Formerly Director of The Forster Collection at The Victoria and Albert Museum.
Paul is visibly enthused by the exhibition,
"The exhibition was devised for a conference on 19th century journalism at the University of Buckingham last year. It is quite simply stupendous. Don't miss it! It will remain up in the library after 9 July"
The programme
5.30 pm: arrival, wine reception, and exhibition. Ground Floor Foyer, Sir Duncan Rice Library
6.00 pm: Lecture: An Introduction to Dickens's Journalism by John Drew, Professor of English, University of Buckingham, and Director of Dickens Journals Online and Dr Tony Williams, formerly joint honorary secretary of the International Dickens Fellowship. Room 224, Sir Duncan Rice Library
6.40 pm: John Drew, An Online Tour of the Dickens Journals Online Project. Room 224, Sir Duncan Rice Library
7.00 pm: Tony Williams, A Brief History of the Dickens Fellowship. Room 224, Sir Duncan Rice Library
7.20 pm: questions and return to ground floor for final viewing of exhibition.
8.00 pm: Library closes
John Drew and Tony Williams are both particularly distinguished Dickensians and superb speakers. We are very fortunate that they are coming to Aberdeen, and they deserve a bumper turnout.
To plan for catering and seating, could anyone planning to attend please send an RSVP to scc.events@abdn.ac.uk