Craig Chisholm reviews 'Enjoy' music festival at Hazlehead Park. Photos by Craig Chisholm.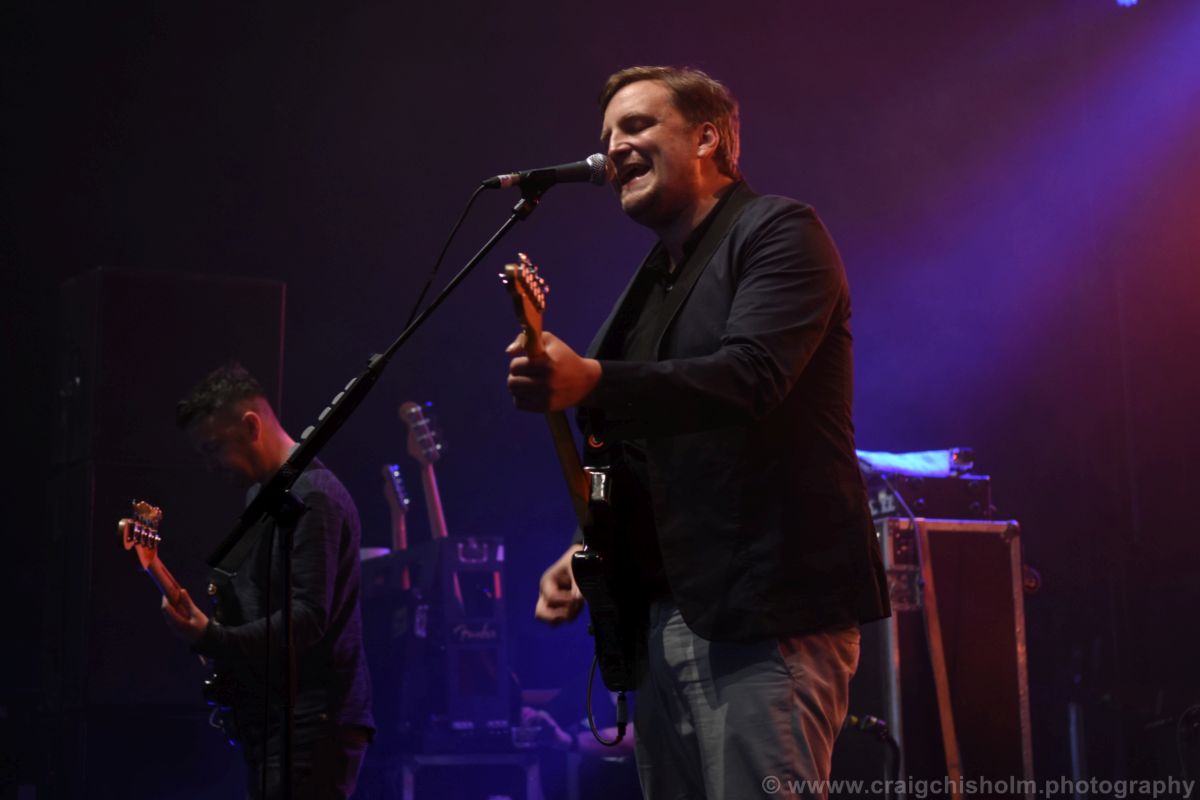 Enjoy Music festival returned for the fourth year on a fun packed, sun soaked weekend that drew the crowds, had some big name artists and will have left punters looking forward to next year's event.
After three years of successful one day festivals the organisers took the brave step of making this year's festival a two day affair.
And, after a bit of rain last year, also took the decision to make the main stage inside a giant 3000 capacity big top, rather than outdoors – but, typically, the Scottish weather conspired to make it to one of the hottest weekends of the year with not a cloud in sight.
Gates opened at 4 o'clock on the Friday afternoon, when a lot of attendees would still be at work, school or college. But those that did make it early were treated to electric sets by Fat Hippy Records signings, the Scottish indie band Miss Lucid and Manchester band Alias Kid, who are signed to Creation Record's Svengali Alan McGhee's management team.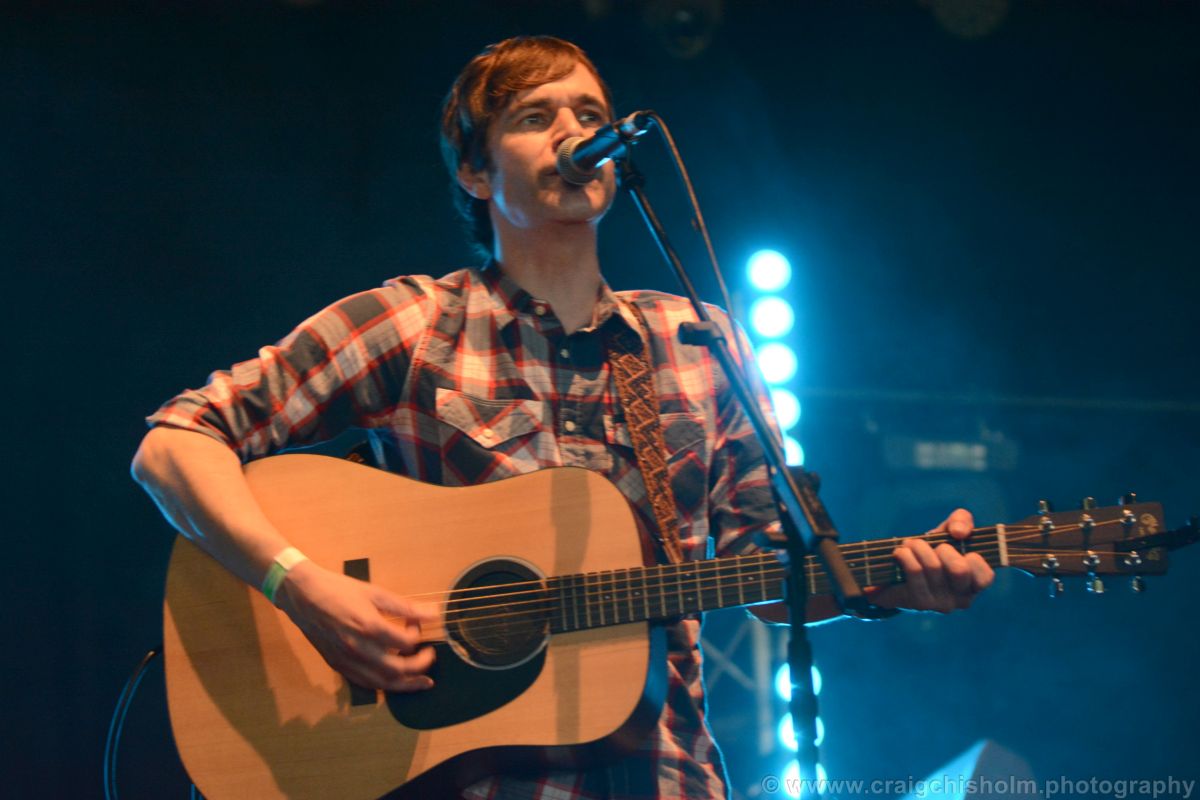 After the up and coming bands had warmed the crowd up it was time for the big names to take the main stage. Mark Morris, frontman of Britpop band The Bluetones, played an acoustic set that was well received by his fans.
With The Bluetones numbers such as 'Slight Return' and 'Cut Some Rug' he had no trouble commanding the stage and warming up the crowd for the next band on the bill – another Britpop band with a string of Top 10 hits behind them.
They do not disappoint those in attendance.
Pulling such hits as 'Sandstorm', 'Finetime' and the ballad 'walkaway' out of their back catalogue has the tent buzzing.
But it's their debut hit, 'Alright' that is the highlight with the crowd signing along word for word.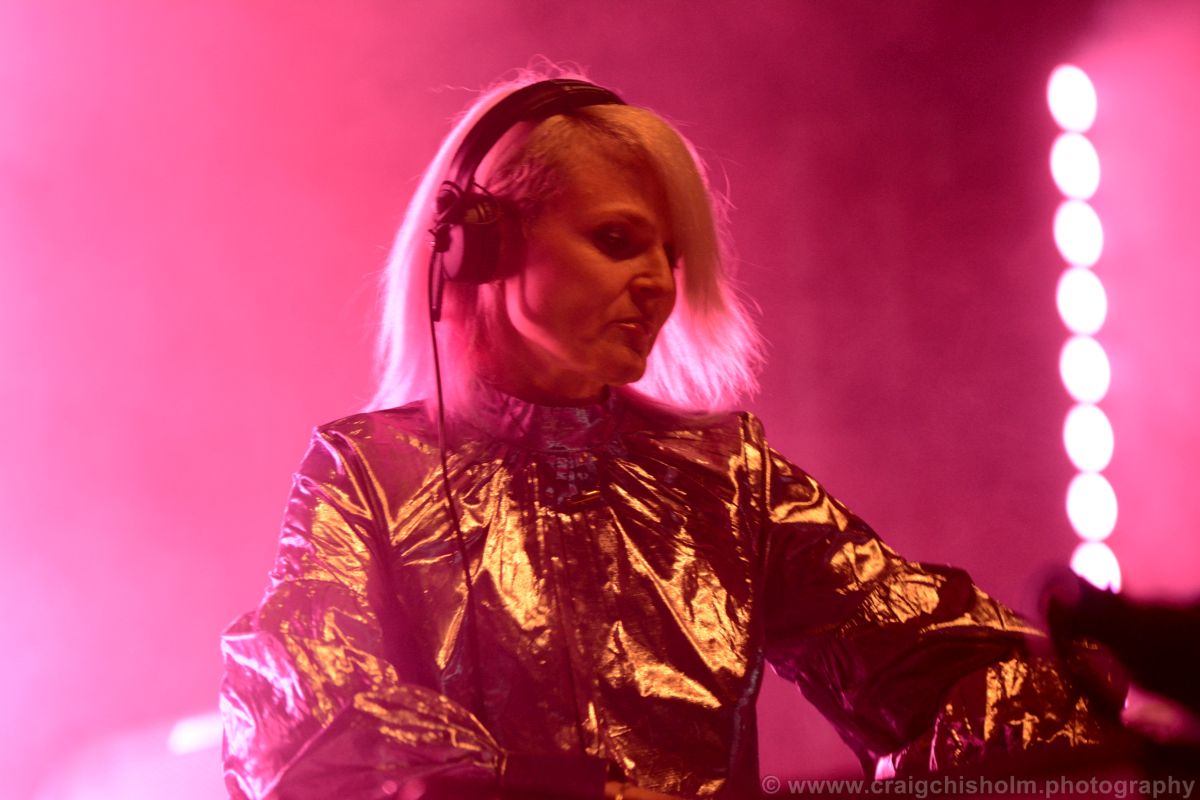 Completing the bill on the Friday, is a headlining set by dance legends Faithless.
The band's keyboard player and writer, Sister Bliss, is behind the decks and delivers a high tempo, energetic set that has everyone dancing.
Filled with classic dance tracks, contemporary floor fillers and a healthy dose of Faithless' biggest numbers she brings the crowd to a frenzy and closes off the first day of the festival in style.
Saturday brings in a bigger crowd and has more stages and family entertainment for all.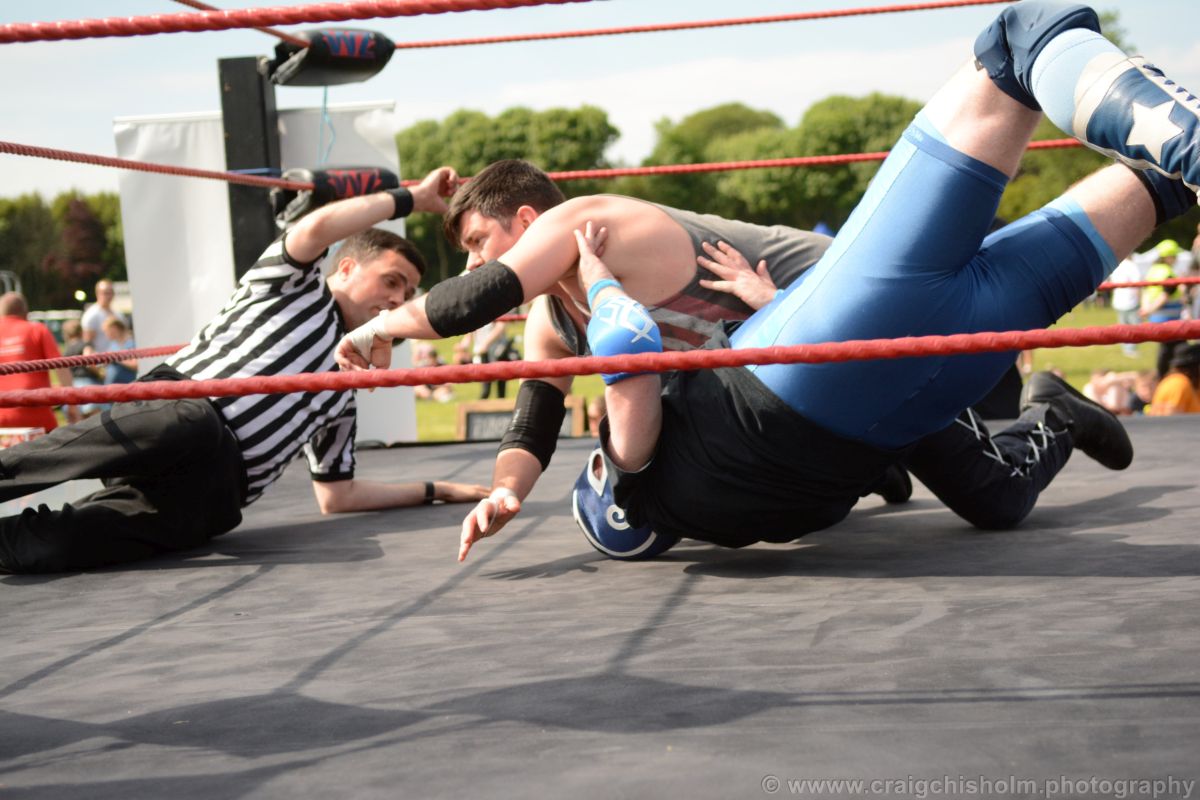 With amusements from Codona's, bungee trampolines, Nerf Wars, craft workshops, a storytelling tent, face painting and much more there's plenty there to keep kids entertained whilst their parents enjoy the music.
Performances in the family big top prove to be popular and with Love Rara providing walk around characters from Disney and superhero movies there's a lot of happy youngsters on site. On the main stage, the music provides a wonderful soundtrack on a hot, sunny day.
Blues influenced rockers Full Fat play some engaging, competent blues influenced rock, whilst local band The Capollos storm through a frenetic indie rock set that has earned them a strong following locally and across Scotland.
Another Aberdeen band that are making waves are Cold Years. No less a publication than rock magazine Kerrang! described them as an 'Aberdeen five piece [that] prove beyond doubt that rock 'n' roll lives' and it's certainly a sentiment that those who watched them that would agree with.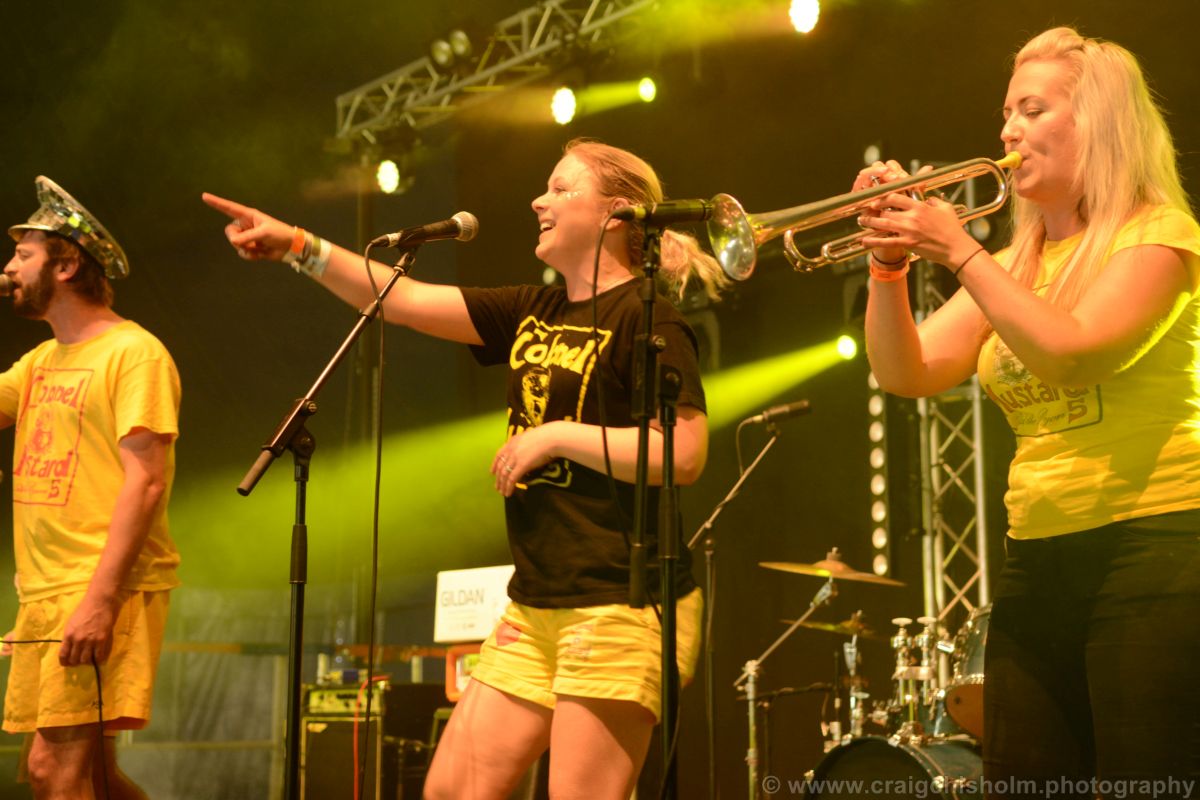 Glasgow band Colonel Mustard & The Dijon 5 are, quite possibly, the perfect festival act and will have gained a lot of new fans today.
An explosion of colour, the band engage the audience and make them part of the performance.
'Dance Off' is exactly what it says it is with children and adults alike strutting their stuff. The entire audience are led around the tent by a band member carrying a lollipop man's sign to 'Cross the Road' and there's a minor stage invasion by redheads to 'Ginger Girl'.
Their eclectic mix of brass, disco, rock and humour is perfect for an event such as this, uniting old and young in one happy, joyous collective.
Dodgy singer Nigel Clark follows them with an acoustic set that includes hits such as 'Staying Out for The Summer' and 'Good Enough' to a rapt audience.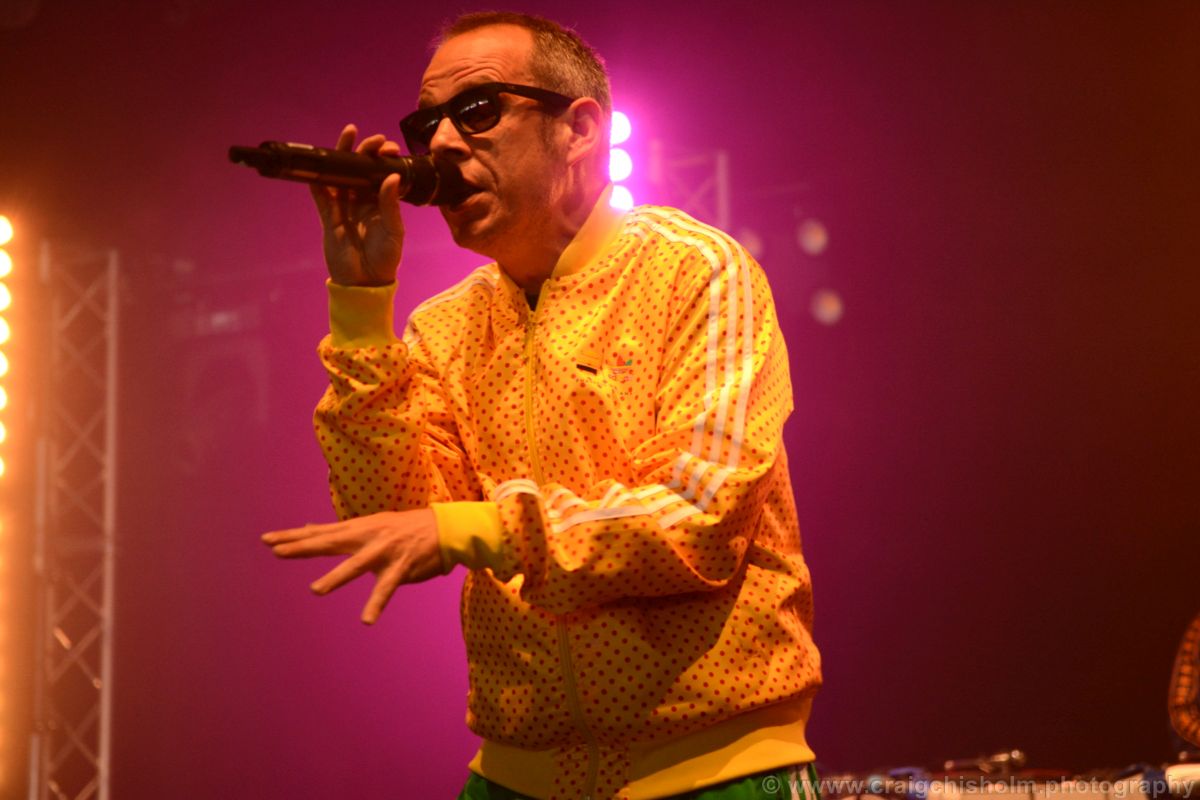 Welsh rap heroes Goldie Lookin' Chain provide a humorous set with 'Guns Don't Kill People (Rapper's Do)' proving a popular highlight.
Over in the dance tent things are really hotting up – a day of beats and breaks is finished off with a couple of big names that have the tent rammed. The talented producer and DJ James Zabiela has the crowd dancing to a frantic and energetic set before handing over to one of the biggest names in dance music – Basement Jaxx.
The dance duo are no strangers to big stages and working large crowds as headlining performances at Glastonbury and Rockness with a full band prove.
In a smaller environment such as this they are flawless – with a back catalogue stretching back over 20 years they have no trouble at all and have the crowd eating out of their hand.
Meanwhile, the main stage is closing out to a couple of eclectic big names.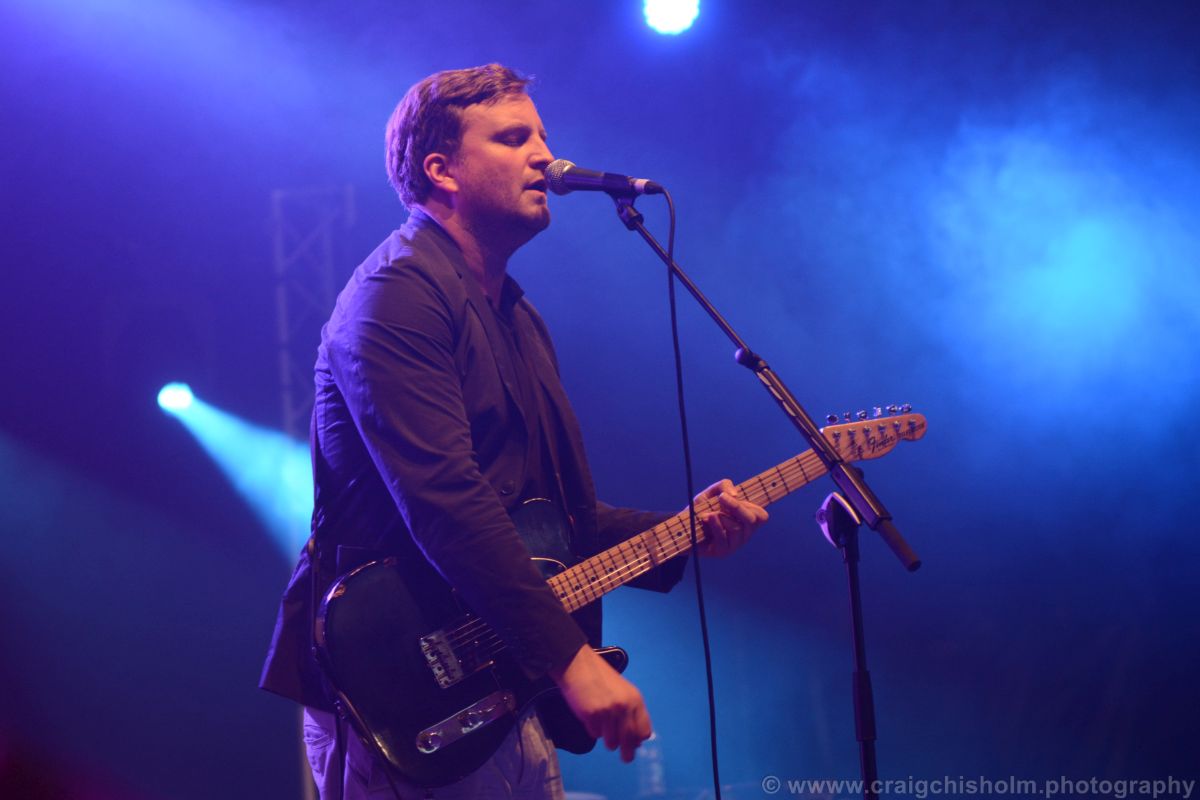 With 5 albums behind them, Starsailor have no problems working the big stage and pulling out some major hits. 'Alcoholic', 'Silence is Easy' and 'Good Souls' are particular highlights and has the crowd singing along in rapture.
After their set there's a change of tempo as drum and bass act Sigma end the evening. Hidden behind a cloud of dry ice and flashing lights the duo gives a sensory overloaded set closing the festival in euphoric fashion.
With 10,000 people through the gates over the weekend, some stunning entertainment and beautiful weather Enjoy Music can only be declared a success yet again – here's to next year and to another bill that will put Aberdeen firmly on the festival map.