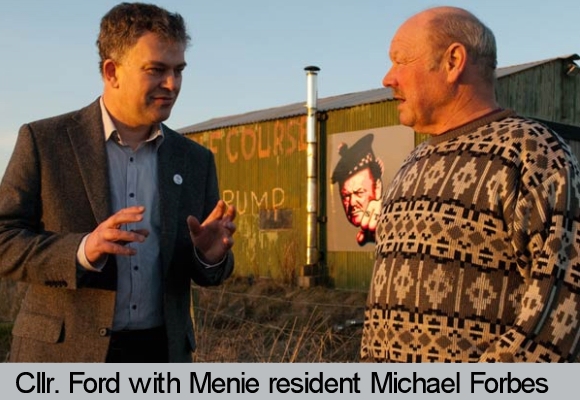 With thanks to Martin Ford.
Aberdeenshire Green councillor Martin Ford has welcomed the announcement of a planned feature film about the battle between residents on the Menie estate and Donald Trump.
The saga has already been the subject of a number of television and cinema documentaries.
Cllr Ford said:
"The tremendous resilience and courage of the Menie residents in standing up to Donald Trump and his backers is certainly a story worth telling. The residents are obvious heroes. There is also no shortage of villains in the plot.
"I look forward to seeing the completed film."
Cllr Ford confirmed he had been contacted by the proposed film's producers some time ago.
"I have now spoken with the screenwriter on a number of occasions to provide factual information about Aberdeenshire Council's involvement in the events which the film will portray," he said.
Cllr Ford chaired the Aberdeenshire Council committee that refused Donald Trump's application for outline planning permission for a golf resort at Menie. Cllr Ford subsequently spoke out strongly against Mr Trump's request that Aberdeenshire Council use compulsory purchase orders to remove his neighbours from their homes on the Menie estate.
Comments enabled – see comments box below. Note, all comments will be moderated.
[Aberdeen Voice accepts and welcomes contributions from all sides/angles pertaining to any issue. Views and opinions expressed in any article are entirely those of the writer/contributor, and inclusion in our publication does not constitute support or endorsement of these by Aberdeen Voice as an organisation or any of its team members.]