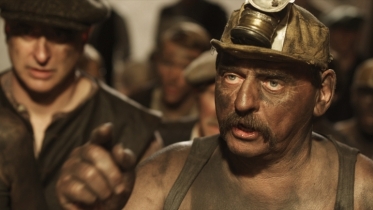 With thanks to
Helen Trew.
Described as, "remarkable, original and daring," Robert Rae's epic, sweeping portrait of a definitive moment in British history is a ground breaking work that casts the people of Fife at the heart of their own story, told in their own voices.
This work draws its audience into Britain's only revolutionary action, the General Strike of 1926 – only seven years after the slaughter of the trenches, miners unions lead the country against savage austerity cuts handed to the nation by a Liberal/Conservative government.
Inspired by true stories from local families in Fife, The Happy Lands follows the journey of law abiding citizens who become law breakers in a heroic battle against the state.
The unique and strikingly audacious approach to making The Happy Lands is the first and foremost of its many virtues.
The genuine artistic excellence on display and the integrity that was maintained in the engagement of the ancestors of the mining community sets a new precedent for Scottish film making, and marks The Happy Lands as a unique work of significant artistic and international importance.
Rae's film has been lauded for its exceptional production values and the outstanding and moving performances of the non-professional actors, particularly those of Kevin Clarke as Michael Brogan, and BAFTA Scotland nominee Joki Wallace as Dan Guthrie
The film taps into a strong spirit of Scottish nationalism, more prevalent now than at any other time in recent history as the world anticipates the landmark 2014 referendum on Scottish independence, falling on the 300th anniversary of the Battle of Bannockburn and in the official Year of Scottish Homecoming and provokes conversation about Scottish national identity and heritage.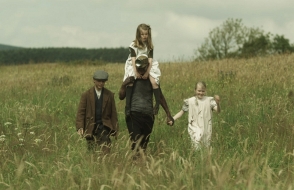 The Happy Lands is currently on release in UK prior to it's BBC Scotland broadcast.
The film premiered at Glasgow film Festival Feb 2013, had screenings in both Scottish and UK Parliaments, and was recently screened at the China National Film Museum in Beijing to invited audiences.
Comments on The Happy Lands include:
"A powerful account of miner's' struggles…the Film transports us back to the realties of 1926….we are swept up in their lives, both tragic and comic. We believe in it. It is a huge success….a superbly innovative way of story-telling." 
– The Morning Star
"A powerful new film…compelling, vivid performances…..a real story told by real working class people….authentic in a way that Hollywood stars never could be" 
– Socialist Worker
"This is original and daring … this film is unique.  It will become a shining beacon of hope. I'm still not sure that everyone appreciates just how significant this film is.  It is the working class telling working class history.  
"That is rare and valuable and stands up, head high, alongside any political film I ever helped make, or any I have seen. It will live forever." 
– Producer, Tony Garnett  (Kes, Cathy Come Home)
"Overwhelming – it is marvelous cinema and so much more." 
– Tom Brown, Political commentator, columnist, broadcaster and author.
"… beautifully shot and very moving.  The acting is excellent." 
– David Elliot, Director Arts, British Council, China
"Re The Happy Lands: this is a great day …for the Scottish Film Industry" 
– Former Prime Minister, Rt Hon Gordon Brown MP
The Happy Lands, which is directed by Robert Rae and produced by Helen Trew, is a Theatre Workshop Scotland production, supported by Creative Scotland through The National Lottery, in association with BBC Scotland.
Showing at Belmont Picturehouse, Aberdeen on 16th May, 2013.
To book, contact the Belmont Picturehouse, Aberdeen on 0871 902 5721
Our telephone lines are open from 9.30am – 8.30pm, seven days a week (call cost 10p a minute from a BT landline).
Further information can be found at: