A quest for recognition for the wonderful Doric comedian, Dufton Scott. By Katie Scott on behalf of the Scott family.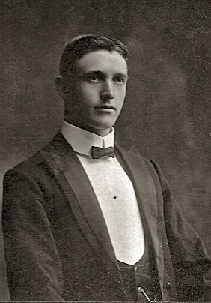 One of my earliest recollections (aged about 6) is nursing an orphaned baby lamb in the kitchen of my Uncle's Willie's Cothal farmhouse.  I remember begging his wife, my lovely Auntie Betty,  to 'speak in  English' so I could better understand her wonderful stories and tales.
Every long golden summer of my childhood was wrapped in the delightful Doric language of my relatives – we (my mum, sisters, brother and I) travelled the long journey from England each year – my mother's accent changing with each mile north we travelled till it finally reverted to the language of her own childhood and matched that of the Doric spoken by her sister (my Aunty Betty) and my father's brother, George Scott.
He used to run the newsagent and booksellers in Inverurie; Dufton Scott and Son. You may remember it? The building belongs to Kellas Solicitors now.
I was born in Nottingham in 1956, the youngest of four children. My father, Gavin Scott (George's brother), had moved with my mother (Janet Monro) to England after the war.  My father was named after his father's good friend and colleague, Gavin Greig.  Greig was a folksong collector, playwright and teacher.  My Grandfather (Greig's friend) was Dufton Scott.
Dufton Scott gained great fame in Scotland as an entertainer and humourist.  (You can read more about him at the North East Folk Archive ).  Dufton died before I was born but I have discovered a lot about him, and I now find myself with a mission – and that mission is to bring my grandfather's work to the attention of all Doric speakers and lovers of North East Scotland.  I am trying to have a commemorative plaque erected in Inverurie; let me tell you a little bit more about this quest.
In April 2010 my brother (also named Gavin Scott) died leaving no children.  He was the last of that Scott line. (Children born to my sisters and I have taken their fathers' names).
Gavin's death provoked a strong desire in me to find my roots. I began to trace our family tree (you may be interested to hear that I discovered that Robert Paterson, of the 'Turra Coo' fame, is my second cousin, on my mother's side).  However, I became more and more fascinated with Dufton Scott and his work.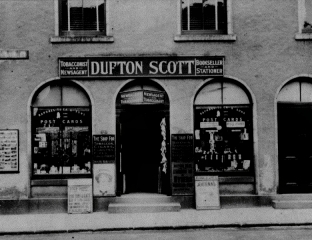 We sisters, Rosalind, Norma and I, talked for a long time about our childhood memories, and we all vividly remember listening to scratchy old 78 records of Dufton's incomprehensible language telling his funny tales of farm workers and their masters, men and women, lawyers and farm servants.
We also had a couple of his books – equally impossible for us English youngsters to comprehend (Norma fared a little better, having the advantage of at least being born in Scotland).
It was just an oddity to us then, but as I have grown older, I've come to realise the great significance of these stories and of the man, Dufton Scott.
The Quest is going well I am pleased to report – Hamish Duthie from Kellas Solicitors has kindly agreed to the plaque being erected on their property.  Malcolm White, a Development Services Assistant (Buchan & Garioch) is helping me with the legal aspects.  We are hoping to hold a celebration of the unveiling of the plaque during the Doric festival next year.
Several people have offered help and support with this, notably Sandy Stronach, the Director of the Doric Festival: www.thedoricfestival.com, Charles Barron, who is a retired academic and Doric playwright:  www.charlesbarron.co.uk and Lorna Alexander, Doric writer and story teller.
Have you heard of Dufton Scott before now? How do you feel about our quest? Can you offer any ideas or support ? I will write again on this subject when we have more news.
More info about Dufton Scott here: Dufton Scott 1880 – 1944