Scotland's Parliament is gearing up for a special screening of the award-winning documentary You've Been Trumped today, but First Minister Alex Salmond has declined an invitation to attend, sighting 'long standing ministerial commitments'.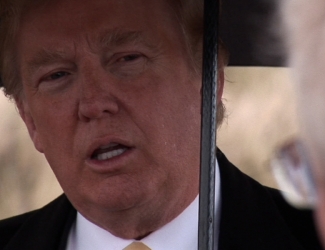 Also absent from the Holyrood event will be Scotland's Finance Secretary John Swinney MSP.  In a statement, Mr Swinney's office said he was unable to attend due to 'prior commitments'.  Mr Salmond has previously declined invitations to several presentations of the film across Scotland, including the green-carpet premiere in Aberdeen and subsequent screenings in Edinburgh and Glasgow.
 Scotland's Government was responsible for giving Donald Trump's controversial golf development the go-ahead at the Menie Estate in Aberdeenshire.
However, a number of high profile politicians and key environmental figures have booked places for this evening's jam-packed Edinburgh screening, including Patrick Harvie MSP (Scottish Green Party Co-Convenor) Stan Blackley, Chief Executive, Friends of the Earth Scotland and geomorphologist Dr Jim Hansom, University of Glasgow (who gave evidence to the Scottish Government inquiry on the Trump development on behalf of Scottish Natural Heritage).
Also present will be Menie Estate resident David Milne whose home overlooks Mr Trump's resort.  Mr Milne said:
"It's very important to bring this film to Parliament to emphasise to those who make the laws that it's not abstract. It's all about living, breathing, people who have a right to live unharrassed in their own homes, in a landscape that should never have been touched."
Also watching the documentary unspool will be academics, golf writers and legal experts including Frances McCartney, whose client, 87 year old widow Molly Forbes, has been threatened with eviction and a legal bill of up to £50,000 by US billionaire Donald Trump.
Mr Trump's office in New York has yet to respond to a personal invitation to the event.
Meanwhile politicians who have not booked their place are being urged to do so by Bob Ward, Policy and Communications Director at the Grantham Research Institute on Climate Change and the Environment at London School of Economics and Political Science who recently saw You've Been Trumped in London.   Mr Ward describes the tycoon's efforts to build a golf resort on Site of Special Scientific Interest as "ruthless" in an article for The Guardian.
Director Anthony Baxter who will also be at the screening said, "We wanted to make it as easy as possible for Scotland's decision-makers to see the film.  We await to see if any other members of the Government will attend today's screening, to comment on what an international film jury recently described as:
"one of the worst environmental crimes in recent UK history."
Today's screening at the Scottish Parliament is being staged by the Take One Action Film Festival.