A month ago Anthony Baxter and Richard Phinney attended the sold-out Aberdeen premier of their documentary 'You've Been Trumped' at Aberdeen's Belmont Cinema.  If you don't know, the film follows one year of (dramatic) events at the Menie Estate as Trump and his people change this part of Aberdeenshire forever.  What has Anthony been doing since those first Aberdeen screenings?  Aberdeen Voice's Suzanne Kelly catches up with Baxter as 'You've Been Trumped' captures world-wide interest.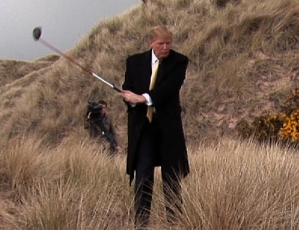 Anthony Baxter is in Trump's hometown, New York City, where the documentary met great acclaim when it was screened earlier this month. A cursory web search for 'You've Been Trumped' comes up with an astounding 6 million plus results. Since those first UK showings, Baxter has been interviewed and quoted very widely; the film is being lined up for further screenings, and it is receiving the critical acclaim it deserves.
"I'm currently in New York – heading to Michigan tomorrow to Michael Moore's festival which sounds great.  We've got excellent slots for the screenings". Baxter advises.
 Michael Moore is one of the world's greatest contemporary documentary film-makers.  Oscar-winner Moore's successes include the documentary classic 'Bowling for Columbine' (a look at America's deadly love affair with handguns) and 'Fahrenheit 9/11.
For further info, blogs, book and film information, click here
Michael Moore chose 'You've Been Trumped' to feature at his festival this year; this selection is high praise indeed.  Moore is no stranger to controversy, and no stranger to Donald Trump.
Trump once labelled Moore with one of the worst labels a Conservative America can use: Trump called Moore 'A Communist'. (Sources say Moore is holding up well despite this crushing slur).
Baxter is increasingly in demand, yet he and Phinney seem to be handling all of their international press, travel and booking arrangements themselves.  (By way of comparison, American CBS television flew several hundred of its staff to London to cover the Royal wedding, some coming several weeks in advance).  Baxter just keeps going forward:-
"I've done a guest column for TGO magazine and also an online interview with the European Documentary network which should be going online soon".
Anthony advises that the film has undergone a small change. At one point 'The Golf Channel' was threatening him with legal action for using a clip of theirs (which Baxter fully credited of course).  Baxter and his legal team held fast.  As to the changes he did make:-
"Whilst here in New York I've done a new master of the film – we've basically made a couple of minor adjustments – one of which is adding the incident where David Milne is charged for a new boundary fence.   I've also been meeting with potential distributors and publicists as we attempt to get the ball rolling for distribution later this year.
"Also – you'll probably have seen we're screening the film at the Sidewalk Moving Picture Festival in Alabama which is good news.   But it's clear we'll need to get some further finance together to get the ball rolling on publicity".
Funding for getting  'You've Been Trumped' shown around the world was not raised from a far-sighted Scottish Arts board, but in part from 'crowd funding'
See indiegogo for details here: Take-You've-Been-Trumped-To-Trump.
If you want to help 'You've Been Trumped' continue its ever-growing, world-wide tour, watch indiegogo and Facebook for further details and any upcoming announcements.
See: Youve-Been-Trumped-On-Facebook
Anthony is getting the film as wide a screening as possible before a probable, eventual DVD release.
There is good news for people who missed the film first-time around – here is an update on forthcoming screenings:
26-31st July, Michael Moore's Traverse City Film Festival official selection (Richard and Anthony in attendance)
12th August,Preview Screening + Q&A, Frontline Club, London (Anthony in attendance)
19-25th August,Screening at the DCA, Dundee (Q&A event on Friday 19 August Anthony in attendance)
26-28th August, Sidewalk Moving Picture Festival, Birmingham, Alabama, USA, official selection (Anthony in attendance)
11th September, 3pm, BFI, South Bank – London Premiere +Q&A (Anthony in attendance)
14th September,Scottish Parliament screening, Edinburgh + Q&A (TBC)
16th September,opening night headline film of the Edindocs Film Festival, Edinburgh + Q&A (Anthony in attendance)
Pencilled in but unconfirmed:
30th September/1st October,Eden Court Inverness + Q&A
2nd October-8th October,Filmhouse, Edinburgh
13-17th October,Hamptons International Film Festival official selection, New York, USA (Richard and Anthony in attendance)
27th October, Discovery Youth Film Festival, Dundee (Anthony in attendance)
1 week in October, pencilled in at the Aberdeen Belmont Picturehouse but unconfirmed.
Updates will be posted in due course on Facebook (just search on 'You've Been Trumped' ) and most definitely on Aberdeen Voice.
The usually litigious Donald has been rather quiet of late.  Perhaps he will wind up being trumped  himself?  Time will tell.