'You've Been Trumped' is a new documentary taking on Donald Trump's invasion of Scotland.  Director Anthony Baxter talks to Voice's Suzanne Kelly about movie making in Scotland, Trump, Menie's residents and environment, the future – and getting arrested for a 'breach of the peace'.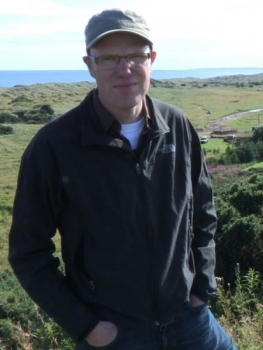 Anthony Baxter meets me in the Belmont Cinema Saturday afternoon; an extra day's showing of his documentary,
'You've Been Trumped'
has been added by popular demand.
Tickets for the previous night had sold out at a fantastic pace, rivalled only by the demand the Belmont experienced for the last Harry Potter movie.  Rather impressive for a documentary about building a golf course.
However, this is no ordinary golf course, no ordinary bit of coastline, and certainly no ordinary people at the story's heart.
Although there are a large number of people wanting and needing his time before the movie starts, he invites me to sit with him for an interview, and offers me more time afterwards should I need it?
The documentary had its Scottish premier at the Belmont the night before, and residents of Menie were warmly-received guests of honour.  When the film ended last night, it received a standing ovation – something I have never seen for a documentary — with long-suffering Menie residents Molly Forbes and Michael Forbes getting applause.
The audience included Martin Ford, the Aberdeenshire Councillor who cast a deciding vote against Trump's plans before the Scottish Government called in the plan and allowed the devastation of the Menie Estate.  This was a completely unprecedented move on the Scottish Government's part.
Baxter greets me enthusiastically; he is eager to talk about last night, and he is filled with thanks for all of those who came, and those who supported the film's creation, particularly the Menie residents and his producer, Richard Phinney.
I ask him how he became interested in Trump's plans for building 'the world's greatest golf course.'
"My grandfather lived in Montrose, and we often went up the coast to Menie when I was young,"
"I wanted to make the film – it was a very important story and it wasn't being told properly… it was not being reported."
We discuss the glaring absence of newspaper coverage of last night's event (both Northsound Radio and STV covered the film's premier, but there was not a word in the Press & Journal or the Evening Express).
"It was the biggest documentary ticket sales demand at this cinema, and none of the local press even mentioned it," Baxter comments.
As a local event it was newsworthy – as a documentary on a controversial Aberdeenshire issue, it was doubly so.  Elsewhere in the world, the press are less coy.  The Times and The Guardian newspapers aren't so myopic – they have covered the documentary prominently.  In the wider world The Toronto Star, Canada's biggest selling newspaper, declared:-
"You've Been Trumped is a "shattering chronicle… of American greed, hubris and stupidity."
Baxter tells me that in Canada the audience was extremely angry after seeing the film, and couldn't believe Donald Trump's golf resort had been given the go-ahead in Scotland.  Today's audience was no less angry.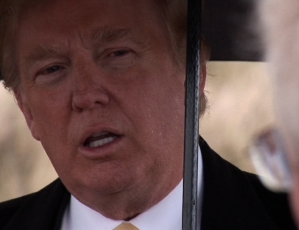 "How did you finance your film?" I ask. Baxter answers by first thanking those who helped – the credits contain a fairly long list of sponsors and supporters.
He explains his frustration at the lack of Scottish arts funding:  none of our government-sponsored arts bodies has given him anything at all towards his film's creation.  He had applied for a £10,000 grant – he was turned down.  Apparently the Scottish government funding source which turned him down concluded 'there was not enough audience interest.'
I would love to ask this agency what it has to say now.
"I also had to re-mortgage my house."
I asked him to repeat, and he confirms this.  It takes a particular kind of bravery to invest any money and time to pursue a creative venture in the first place – but to be willing to risk your home to make a film about one of the world's most lawsuit-happy entrepreneurs must take nerves of steel.
I mention that 'You've Been Trumped' has just won an award.
"It's fantastic to get the Sheffield Doc/Fest Green Award– it's the highest environmental documentary accolade in Great Britain." Baxter explains.
"Now I just want to get the film seen by as many people as possible."
The judges who awarded the prize said:-
"This year's Green Award goes to a film which exposes one of the most shocking environmental crimes in recent UK history.  We hope that this award will raise awareness and hold Donald Trump to account for his environmental and social belligerence, and expose the corruption and incompetence at the heart of the Scottish authorities which let this destruction go ahead."
The project started a year ago – by the time I've seen the film, I realise what an extraordinary year it's been for him, the Menie residents, and tragically for what was once a dynamic sand dune system and a Site of Special Scientific Interest (the highest environmental protection an area can be given – for all the good it meant in the end).
It looks as if Baxter will be successful in getting people to see his movie – he is off on 7th July to New York where the film will be shown at the IFC (the prestigious New York City home for independent films).
"I will be sending Donald Trump an invitation." Baxter offers.
Trump has apparently derided the film as 'amateurish… a failure' and 'an attempt to cash in on the Trump name.'   According to STV, the Trump organisation has branded Anthony Baxter 'a fraud.'  All things considered, I somehow think 'the Donald' won't be accepting Baxter's invitation.
Grampian Police would seem to have slightly overstepped the mark
The Trump organisation has a habit of, shall I say, putting forth its own version of the truth.  For one thing the Trump organisation once said it would never use compulsory purchase orders to take over the homes at Menie.
This claim was proved to be untrue by Aberdeen Voice's contributor, 'Bennachie Blether' , who had been sent copies of lawyer's letters which indeed discuss compulsory purchase orders, see: Aberdeen Voice Article – Menie Masterplan
Trump has also claimed that Menie Resident Michael Forbes twice promised to sell out  to Trump. Forbes denies the claim, and for anyone who has seen this film, it is inconceivable Forbes would ever have said any such thing.   I am therefore just a little sceptical of Trump's fraud claim.   Baxter then has other showings – for details see: youvebeentrumped – the movie
Baxter and Phinney were arrested at Menie for 'a breach of the peace'.  This arrest is captured on film.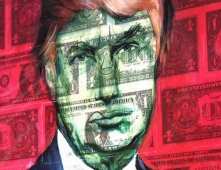 The events leading up to their arrest need to be seen to be believed.  Suffice it to say, the whole cinema was outraged.  Grampian Police would seem to have slightly overstepped the mark.
Baxter is asked during the Q&A – the first question as it happens – if he now plans to complain about the police or take any further action.
Baxter says that he wanted to do the job of showing what is going on at Menie, and it is now for others to look at the police.
He and Phinney were charged with a 'Breach of the Peace' before the charges were downgraded to written cautions at the time – which served both to prevent them having a fair day at court, and to try to intimidate them from continuing their filming.
If the intent was to stop this film, it is clear that it did the exact opposite.
The entire matter was eventually thrown out – not before DNA had been taken and they had been treated like criminals:  they did not find out about the matter being dropped from an apologetic police force, but from the media third-hand.  This use of police caution had also been used against Michael Forbes – he had removed marker flags that Trump's people put on his land – and was cautioned not to do anything again.  The value of these flags was £13.
Baxter has suggested someone should investigate the policing of the Menie Estate.  Someone will be doing so.
I form the impression that Anthony Baxter is a man who is not going to rest on his laurels; in fact I doubt he'll be getting much rest even if he wanted to.
People are seeking his attention; I end the interview and he gives me his contact details.  He's leaving Aberdeen after this afternoon's film and question & answer session.  One last question springs to my mind.
"What's next?  Any future documentaries planned?" I ask.
"I'd like to do something on Afghanistan.  There is a children's hospital ER I want to look at." Baxter answers, and is soon ushered away for the film's start.
I resolve to keep my eye on his future works, and head off to find my seat.  When I emerge a few hours later, I am impressed, shocked, and angry.  The film is beautifully crafted, and through all the trials, the residents of Menie, and other individuals who stood against the Trump machine renew my faith in people to a considerable degree.  If as Trump says Baxter is a 'fraud' and a 'failure', then I think we could do with more frauds and failures like him.  See this film.
Awards: Sheffield Green Award, Sheffield International Documentary Festival, Doc/Fest 2011
Directed By: Anthony Baxter
Written By: Anthony Baxter & Richard Phinney
Produced By: Richard Phinney
Website http://www.youvebeentrumped.com http://www.jonsi.com
For those of you who saw the film and wish to rate it for The Guardian  readers, see: http://www.guardian.co.uk/film/movie/142256
… And for those of you who have not yet had the pleasure – additional screenings will be held at Belmont Picturehouse, Aberdeen:-
Friday 24 June at 6.30pm
Saturday 25 June at 1.45pm
Sunday 26 June at