By Gordon Maloney.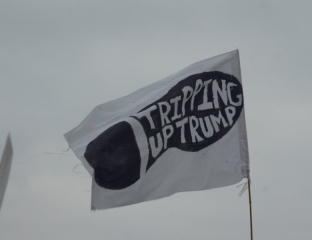 A Tripping Up Trump supporter waves a flag at a protest against Donald Trump's proposed golf course on the Menie Estate.
Two journalists who had been detained following accusations from the Trump Organisation regarding an incident in July of last year have had all charges dropped against them.
Anthony Baxter and Richard Phinney, who have both won awards for their work, had been investigating claims that the Trump Organisation had deliberately left local residents at the site of a planned golf course on the Menie Estate, Aberdeenshire,  without water for several days when police were called. They were accused of having entered the organisation's offices and filming without permission, a claim both journalists denied. The pair welcomed the Crown Office's decision this week to not proceed with the charges.
Paul Holleran, of the National Union of Journalists, told Aberdeen Voice:
"The NUJ are always concerned when journalists are prevented from doing their work by police interference, particularly if it appears that  intervention is on behalf of someone like Trump. Journalism is part of the democratic structures of every country and should be encouraged not censored or prevented by bogus complaints and interference."
Martin Glegg, spokesperson for Tripping Up Trump, a group campaigning against the attempts to use compulsory purchase orders to force residents out of their homes, said:
"I hope this sheds some light on the tactics of the Trump Organisation and the way they are wasting public money on police services to help them intimidate anyone who wants to expose the truth behind this housing and golf development."
Grampian Police were unavailable for comment.
For more information about Tripping Up Trump, visit their website at  www.trippinguptrump.com.