When Meschiya Lake and The Little Big Horns flew in from Louisiana for their first ever UK tour earlier in 2012, they confirmed their reputation as one of the hottest acts on the American roots music circuit, playing to capacity audiences everywhere they went. With thanks to Loudon Temple.
During Glasgow's Celtic Connections festival, a thousand revellers turned out at the band's Old Fruitmarket show. Reviewing their gig at London's Dingwalls, Rachel Devine told readers of R2 magazine this was:
"one of the most entertaining live bands on the planet."
Radio 3presenter Mary Ann Kennedy said they were:
"One of the big hits of this year's Celtic Connections," adding "they just set the festival alight."
And, after filming footage for their new series in New Orleans, The Hairy Bikersdescribed the band's music as:
"Prozac for the soul!"
No doubt audience curiosity was aroused by the 2011 album Lucky Devil which received glowing reviews on its UK release, although the live shows are even more flamboyant and exciting.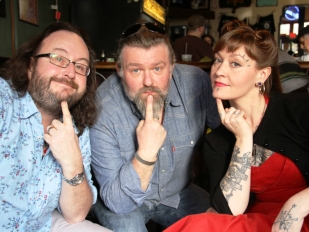 Local connoisseurs can see what's causing such fuss when Meschiya takes her band to
The Blue Lamp, Aberdeen
on September 4.  She will be accompanied, as she was earlier this year, by Chance Bushman and Amy Johnston, two of the world's top
Lindy Hop
exhibition dancers, who tour the globe to participate in major competition events and dance camps from Brazil and Canada to Scandinavia.
Meschiya says she and her highly entertaining entourage are excited to be heading for Aberdeen.
"We have good friends, among them The Wilders and The Wiyos, each of whom have played Aberdeen in the past and they tell us that we can look forward to one of the best audiences Scotland has to offer. We love nothing better than to be turning it on for an enthusiastic crowd and we'll make sure that everyone has a ball."
As for The Hairy Bikers, there was never any question that they would enjoy Meschiya Lake and The Little Big Horns' music and sassy style. On a recording recent visit to New Orleans, they headed straight to The Spotted Cat in the Big Easy's French Quarter to film the band in action and have a chat with Meschiya.
You'll see the outcome when the new series is screened from 19th August (8pm) on the Good Food Channel, Meschiya was named Female Performer of The Year in the 2011 Big Easy Music Awards and repeated this success in 2012. A new album is being released later this year.
UK Tour 2012
Wed Aug 29: The Buccleuch Centre, Langholm
Thurs Aug 30: The Tolbooth, Stirling
Fri Aug 31: Eastgate Theatre, Peebles
Sat Sept 1: Brookfield Hall, Renfrewshire
Sun Sept 2: Stereo, Glasgow
Mon Sept 3: Douglas Robertson's Studio, Edinburgh
Tues Sept 4: The Blue Lamp, Aberdeen
Wed Sept 5: Eden Court Theatre, Inverness
Thurs Sept 6: Heart of Hawick,
Fri Sept 7: ARC Arts Centre, Stockton on Tees
Sat Sept 8: Selby Town Hall
Sun Sept 9: Gateshead Town Hall
www.bloodygreatpr.com
www.brookfield-knights.com
http://www.youtube.com/watch?v=QnYEITZ-hbs