When you count 'Whispering' Bob Harris as a fan, it's safe to assume there's something very interesting happening, Loudon Temple tells Voice, as Hillfolk Noir prepare to storm the Gallowgate.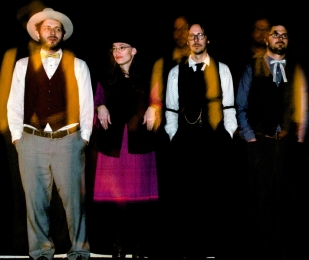 The former
Old Grey Whistle Test
figurehead and BBC Radio 2 presenter nailed his colours firmly to the mast when he discovered Hillfolk Noir earlier this year and went on to play tracks from the band's ninth album,
Radio Hour
, over and over.
But Bob went one step further and told listeners to his show that he couldn't wait for the four-piece from Boise, Idaho to arrive here for their first ever UK tour.
'They're amazing', he said, 'And I can't wait to see them onstage.'
He's not alone, as an army of UK fans have been urging the band to tour here ever since their last album, Skinny Mammy's Revenge, was released to widespread acclaim.
They are one of the hardest-working bands on the US roots music circuit and have built themselves a huge Stateside following playing what has been described as music 'filtered through a country-tinged, swampy-swingin', hillbilly-delta-blues-ragtime word machine'.
Hillfolk Noir were widely recognised as one of the outstanding highlights at this year's SXSW in Austin, Texas and Skinny Mammy's Revenge established them as a force to be reckoned with on both sides of the Atlantic.
Americana UK writer Paul Kerr told readers it was 'a delight', and added:
'Hillfolk Noir manage to capture the essence of American music in spades.'
Hillfolk Noir arrive in the UK with a brand new CD that's been winning them even more praise. But which venue will Bob Harris favour with his company?
Band leader and main songwriter Travis Ward said:
 'Yes, of course, it's completely and utterly amazing to have someone like Bob Harris on your side. But, the reaction from the UK press in general terms has been very encouraging and we are pretty excited to be embarking on our first ever tour here.
'We basically make the music for ourselves because we love it; we are having a great time and hopefully that is infectious. We sing and play our guts out – every song.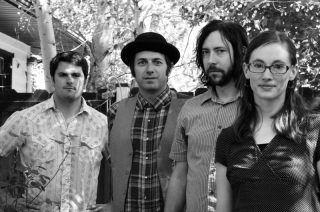 'It's particularly great to be playing The Blue Lamp as we've heard from our good friends, The Wiyos and Pokey LaFarge & The South City Three, that they always had a great time there with an audience that likes its old-time Americana, and particularly when it has a quirky rather than straight-down-the-middle edge to it.
"Sounds like they get in party mood and that suits us fine!'
Others have commented:
'It's a swampy, bluesgrassy, gospel-tinged, Depression-era prayer meeting medicine show of warped ragtime delta hillbilly blues/folk/country…or something like that'.  Nick Churchill, FATEA magazine
'One of the most incredible bands'.  Seattle Weekly
'This is roots music with attitude'.  R2 (Rock 'n' Reel)
 'Extraordinary 21st century old-time music'.   American roots UK
Hillfolk Noir Scottish dates:
FRI JUNE 1:


.


SUN JUNE 3:


.


TUES JUNE 5:


.


WED JUNE 6:


.


THURS JUNE 7:


.


FRI JUNE 8:


.


SAT JUNE 9:


.


SUN JUNE 10:


.


TUES JUNE 12:


.


WED JUNE 13:


.


THUR JUNE 14:
Birnam Arts, BIRNAM, by Dunkeld.


.


Memorial Institute, MONIAIVE.


.


The Old Library, KILBARCHAN.


.


Douglas Robertson's Studio, EDINBURGH.


.


Woodlands Hotel, BROUGHTY FERRY.


.


The Blue Lamp,ABERDEEN.


.


Eden Court Theatre, INVERNESS.


.


The Catstrand Arts Centre, NEW GALLOWAY.


.


Stereo, GLASGOW.


.


Eastgate Theatre, PEEBLES.


.


Acoustic Music Club, KIRKCALDY.