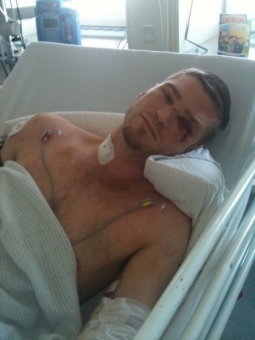 By
Justin Smith.
3 years ago, I was a successful IT systems Engineer earning in excess of thirty thousand pounds a year and had been in continuous employment since leaving university.
On 15th Aug 2010 I was in a road traffic accident that turned my world upside down. I was left in Critical condition in Aberdeen Royal Infirmary as a result.
According to RoSPA,  80,000 people a year are seriously injured on the road. So it could happen to anyone!
I had 3 major surgeries in ARI and 2 further surgeries including a total hip replacement up to December 2011. On the 9th of May 2012 I was assessed by ATOS to be fit to work.
This was despite the fact I was on crutches and due to have my 6th surgery in August 2012, on a leg I am fortunate still to have.
I had that surgery in August and there was absolutely no chance I would have been fit to work for several months even if everything went well. As it was, I spent most of September in ARI due to an existing infection in my leg. I needed 4 more surgeries as a result.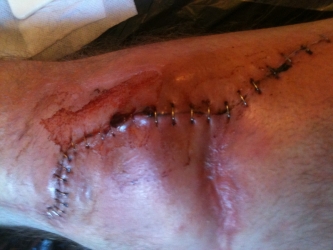 I was in no way physically fit to work for many months afterwards.
My consultant had said as much in a letter I had requested and that was presented at my tribunal.
In addition to my physical injuries, ATOS took no account of the effects of my head injury believing that my spending an hour at a time on FB was sufficient evidence that I could return to work!
Maybe if I worked for ATOS?
The WCA takes no account of my fatigue and the anger issues resulting from head injuries. I have since had my Tribunal – March 2013- and although they gave me 6 points, I was still judged to have been fit to work last may, at least according to the limited criteria of the WCA.
How anybody can reach the decision that I was fit to work in May 2012 and how the tribunal can confirm that decision, based on any form of reason is beyond me.
They said I was fit to work when they knew I had upcoming surgery that I obviously needed. Subsequent to that surgery I was in hospital for a month for 4 more surgeries, with a further 6 weeks of hospital visits to attend to open wounds.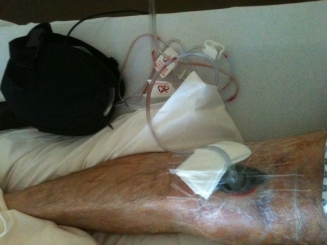 Those wounds did not close until the week before Christmas 2012. That was 5 months and I was still recovering. In what way would I have been fit to work over that period?
I am currently on the Momentum pathways program for head injuries to prepare me for a return to work this summer. It has helped a great deal and I wouldn't have been fit to return to work without it.
I plan to go back to work part time in May and build up my hours from there.
It was always a primary objective in my recovery to get back to work! If I, as a hard working productive member of society am treated like this when I need the help most, what is the welfare system for?
I am one of the lucky ones in having the support of my family and being able to get back to work. Other people aren't so lucky and are dying or left destitute due to the actions of this government.
Comments enabled – see comments box below. Note, all comments will be moderated.