On Saturday 23rd June at Sheddocksley Baptist Church in Eday Walk, the local disabled charity Future Choices unveiled their new wheelchair friendly minibus with the help of Dame Anne Begg MP who was the special guest to cut the ribbon. Lewis Macdonald and Richard Baker also attended, as did Paul O'Connor MBE from Inchgarth Community Centre.  With Thanks to David Forbes.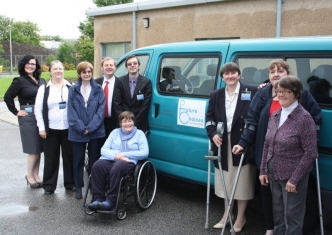 Future Choices launched the Cash for Cans appeal in February with the aim of collecting empty drink cans, which they exchanged for cash to allow them to purchase a second hand minibus.
Over fifteen thousand empty drink cans have already been exchanged for cash, generating over £1000 so far. John Lawrie Aberdeen Ltd. recycle the aluminium cans.
Although the charity has now bought the minibus, they still need donations of empty drink cans to cover the running costs of the bus.
Future Choices Chairman David Forbes said:
"Without the help and support of the Aberdeen community and oil companies, this appeal would not have been successful".
"We received empty cans from companies including Hess, Talisman and many others, as well as community centres such as Inchgarth. We even had the support of primary schools, with Crathes Primary & Ferryhill Primary getting involved to make a difference."
"Having access to the minibus will greatly increase the range of activities offered by the charity, allowing for a much wanted lunch club to be set up and day trips to be planned"
Dame Anne welcomed the purchase of the minibus stating:
"Transport can be one of the biggest barriers preventing disabled people participating in activities and this minibus will provide the opportunity for many of them to get out of their homes."
Future Choices member Blanche Cruikshank, who needs accessible transport to get out and about, said:
"The minibus is a real life-saver and those behind the appeal have changed my life for the better."
Another Future Choices member, Alec Rennie, who cares for his wife Mary, added:
"Having access to transport for my disabled wife and me will have a huge positive impact on our life. To be able to get out and about more is all we want."
Future Choices also highlighted that fundraising needs to continue. Chief Fundraiser, Catherine Mancini, stated:
"The unveiling marked a great triumph for Future Choices and we will continue to work tirelessly to ensure the same level of success in the future"
http://www.aberdeenccn.info/Networks/FC/FCContact.asp
Comments enabled – see comments box below. Note, all comments will be moderated.