The success of the splendid 'Cash for Cans' initiative by Aberdeen's Future Choices will culminate this Saturday (June 23rd) with the unveiling of a new mini-bus for the disabled. With thanks to David Forbes.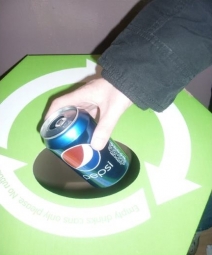 The appeal was launched in February with the aim of collecting a million empty drinks cans which were exchanged for money to buy a second-hand mini-bus.
The charity's chairman, David Forbes said: 
"Without the help and support of the Aberdeen community and oil companies, this appeal would not have been successful. The unveiling is our way of saying thank you"
He added;
'We do still need your drinks cans coming in to maintain the vehicle and we appreciate everyone's continued support."
Dame Anne Begg – who will be assisting at the unveiling along with Lewis MacDonald and Richard Baker MSP – said:
"I am so pleased to hear that Future Choices have been successful in raising enough money to purchase a mini-bus. Transport can be one of the biggest barriers preventing disabled people from participating in community activities and this will provide the opportunity for many of them to get out of their homes."
The event will take place at Shedocksley Baptist Church between 11.30am and 1.00pm and Light Refreshments will be provided.