A Charity Dinner Dance in aid of Future Choices  is being held on Saturday 8th October 2011 at Pittodrie Stadium.With thanks to David Forbes.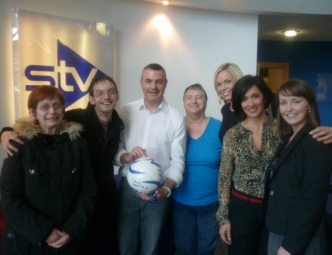 Future Choices is a local charity set up to support Disabled people in the City of Aberdeen, with a range of social and recreational activities already established for it's members.
The charity is geared towards encouraging and enabling disabled individuals to get out of there homes to meet up and interact, and have many more classes and activities  lined up for the future.
This is the second year in which the dinner dance has been organised to raise funds for Future choices. 
Last year,  £1,500 was raised  towards setting up activities and resources. This year it is hoped that much more will be raised enabling the charity to realise a long standing ambition to acquire a vehicle so that they can provide a greater level of basic support to disabled people in Aberdeen.
The event includes a 3 course meal, live singer and some special guests.
There will also be  a raffle and auction.  Future Choices are very grateful to the News team at STV for the gift of a signed football which will be going to the auction prize pool.  The group are also very grateful for the help and support from Staff Members at Mecca Bingo in Berryden – every bit of help makes a huge difference.
Charity Dinner Dance in aid of Future Choices.
Saturday 8th October 2011
Pittodrie Stadium
6.30pm – 00.30am
Call 07821700046 to book ticket(s)
If you wish to support this event but will be unable to attend, please call and pledge a donation, or purchase raffles or merchandise.
More info.
Following the closure of the Choices Day Centre in 2008, a group of former users of the Centre , their  friends and families  came together to form "Future Choices" which is now registered with the Office of the Scottish Charity Regulator (OSCR).   ( Registered charity number 040085  )
Future Choices gives disabled people and able-bodied people choices for their future together.
See: http://www.aberdeenccn.info/Networks/FC/FCHome.asp