In 2011, Jonathan Russell wrote three articles on the Libyan conflict in Aberdeen Voice, in part because of the lack of public outcry. Here he presents the last part of his four article series.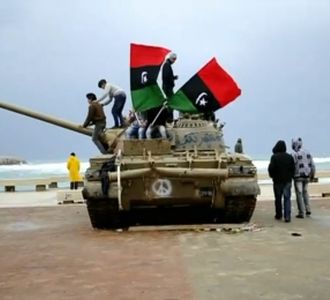 Libya is an artificial state like much of the Middle East and Africa, carved out in the colonial era of early 20th century by Italy. After independence in 1951 Libya was ruled by a constitutional and hereditary monarchy under King Idris, Libya's only monarch, who presided over an essentially tribal society.
On 1 September 1969, a small group of military officers led by 27-year-old army officer Muammar Qaddafi staged a coup d'état against King Idris, launching the Libyan Revolution.
Following the murder of Qaddafi in October 2011 and the collapse of his allies,  the National Transitional Council (NTC)  were recognised by the NATO powers at the same time however countries like Cuba and Venezuela who had offered to broker negotiations left their embassy's in Libya.
The NTC from its outset was dominated by the Muslim Brotherhood who are now, of course, out of favour with their erstwhile NATO backers.
In August 2012 a new Assembly was elected dominated again by the Brotherhood as in Morsi's Egypt or Tunisia.  The Muslim Brotherhoods ally Nuri Abu Sahmain is President of Libya. Mohammed Magarie replaced Mostafa Abdeljali in August last year as Head of State and Ali Zeidin replaced Abdurrahim al-Keib as Prime Minister in November last year following internal and external difficulties.
The latest news on March 12th throws Libya into even greater turmoil.  Libyan Prime Minister Ali Zeiden was deposed on March 12th and fled to Malta, the Maltese government confirmed, on a stopover toward a reported destination of Germany.
Zeidan fled his country immediately following a vote of no confidence which ended his roughly one-and-a-half-year term as prime minister of the North African country. The hasty departure of the ex-diplomat rendered moot any attempts to arrest him.
Zeidan, who during his term as prime minister was once kidnapped and held for hours by armed militants, failed in recent days to stop rebels in the country's east from controlling the sale of crude oil there. In spite of armed forces loyal to the government ensuring that a tanker called "Morning Glory" remained in harbor in Al-Sidra – the city has been held for months it left port and escaped flying a North Korean flag.
Back in Tripoli the blunder turned the mood in the provisional parliament against Zeidan. The subsequent no confidence vote was later criticized by Libyan media as a "trick" on the former prime minister.
Rebel leader Ibrahim Jathran now appears to be the winner in the war of nerves over the strategically vital oil harbors. Until July 2013 he was commander of the unit sent to protect the oil installations, explains Libya expert Amanda Kadlec of the Chatham House think tank in London.
"This gave him ease of access to all the port facilities throughout Libya"  
His supporters have occupied three terminals, she says, and he has called for a separate government for a portion of eastern Libya. It remains unclear how many fighters Jathran commands, but according to Kadlec, reports range anywhere from 800 to 20,000.
Numerous accounts confirm the reality that lawless bands, armed by NATO during the war with modern weapons and which include foreign and local Al-Qaeda and other jihadists, are carrying out daily bombings across the country in the struggle for local control. Tripoli itself has numerous armed militias controlling various sections of the capital.
The general picture in Libya is that of developing armed struggle between local tribal militias and the Brotherhood that controls the central government with leaders in the provinces of Cyrenaica and Fezzan seeking to break away from Tripoli.
Congress has summoned militias allied to the Brotherhood to the capital to try to prevent a coup. As a result, the main opposition party, the centre-right National Forces Alliance, has deserted Congress together with several smaller ethnic parties, leaving the Brotherhood's Justice and Construction party heading a government with crumbling authority.
The July 2013 coup in Egypt against Morsi has further weakened the government which had intended to support Morsi with finance from oil revenues.
Libyans are increasingly at the mercy of militias who act outside the law, demand bribes for services and help perpetrate rampant corruption. Popular protests against militiamen have been met with gunfire; 31 demonstrators were shot dead and many others wounded as they protested outside the barracks of "the Libyan Shield Brigade" in the eastern capital Benghazi in June last year and a further 44 were killed in Tripoli on 8th September.
The unreported Libyan diaspora
Prior to the 2011 "revolution" Libya had a population of 5,613,380 of whom roughly 2 million are now either internally displaced in camps or outside of the country. Official statistics suggest that 1.2million are now living in Tunisia, 400,000 in Egypt and 30,000 in Chad with others scattered around the world. We hear virtually nothing in our media about this and very little about the deteriorating situation inside Libya.
Libya exports terrorism
According to the New York Times, 13th June 2013, some of the more militant Islamic factions are now fighting in Syria and arms for the Islamic groups are coming from Libya.
However, Qaddafi's assertion in 2011 that the rebels included Al-Qaeda groups was dismissed by the Western media. Prior to the conflict Al-Qaeda sympathisers had trained in Afghanistan then, on their return to Libya, started a bombing campaign. This led to arrests and imprisonments but ACCOR they were let out on amnesty largely according to the Amnesty 2010 report on Libya due to the influence of Qaddafi's son Salif.
Though the NATO intervention against Qaddafi was justified as a humanitarian response to the threat that Qaddafi's tanks and planes would slaughter dissidents in Benghazi, the international community has chosen to ignore the continuing and escalating violence. The foreign media, which once filled the hotels of Benghazi and Tripoli, have likewise paid little attention to the near collapse of the central government.
The strikers in the eastern region Cyrenaica, which contains most of Libya's oil, are part of a broader movement seeking more autonomy and blaming the government for spending oil revenues in the west of the country. Foreigners have mostly fled Benghazi since the American ambassador, Chris Stevens, was murdered in the US consulate by jihadi militiamen in September 2012.
Violence has worsened since then with Libya's military prosecutor Colonel Yussef Ali al-Asseifar, in charge of investigating assassinations of politicians, soldiers and journalists, himself assassinated by a bomb in his car on 29 August last year.
Rule by local militias is also spreading anarchy around the capital. Ethnic Berbers, whose militia led the assault on Tripoli in 2011, temporarily took over the parliament building in Tripoli. The government called on the Supreme Security Committee, made up of former anti-Qaddafi militiamen nominally under the control of the interior ministry, to restore order.
At least 19 prisoners received gunshot shrapnel wounds, with one inmate saying "they were shooting directly at us through the metal bars". There have been several mass prison escapes this year in Libya including 1,200 escaping from a prison after a riot in Benghazi in July.
The Interior Minister, Mohammed al-Sheikh, resigned last year in frustration at being unable to do his job, saying in a memo sent to Mr Zeidan that he blamed him for failing to build up the army and the police. He accused the government, which is largely dominated by the Muslim Brotherhood, of being weak and dependent on tribal support.
Other critics point out that a war between two Libyan tribes, the Zawiya and the Wirrshifana, is going on just 15 miles from the Prime Minister's office.
 the terror network only retreats to remote areas, regroups and eventually bounces back
The surrounding area both Sudan and Mali and of course Syria have been greatly affected by Qaddafi's fall. There has been civil wars in Mali and conflict in the Sudan. Al Qaeda has used Libya as a training ground for sending combatants into Syria.
In the rocky mountains and uncovered wastes of south-western Libya, al-Qaeda's North African branch has established a haven after French and West African forces drove them out of their fledgling Islamic state in northern Mali a year ago.
Now, according to interviews with local soldiers, residents, officials and Western diplomats, it is restocking weapons and mining disaffected minorities for new recruits as it prepares to re-launch attacks.
It is an al-Qaeda pattern seen around the world, in hot spots such as Yemen, Somalia, and Afghanistan and increasingly in North Africa: seemingly defeated, the terror network only retreats to remote areas, regroups and eventually bounces back – pointing to the extreme difficulties involved in countering their growth and influence.
On Saturday January 18th 2014, a group of heavily armed fighters stormed an air force base outside the city of Sabha in southern Libya, expelling forces loyal to the "government" of Prime Minister Ali Zeidan, and occupying the base. This report has been confirmed by the Saudi Gazette in an article dated 22nd January:
"The Tamenhint air base 30 km northeast of Sebha is reported to be back in pro-Qaddafi hands after Tebu forces from Murzuk who were guarding it withdrew. They unilaterally pulled out Monday evening [Jan. 20] claiming that the government was deliberately exploiting clashes in Sebha between Tebus and Awlad Sulaiman in order to divert attention from moves to replace it with a new administration."
At the same time, reports from inside the country began to trickle in that the green flag of the Jamahiriya was flying over a number of cities throughout the country.  Despite the dearth of verifiable information – the government in Tripoli has provided only vague details and corroboration – one thing is certain: the war for Libya continues.
Since mid-January forces that remain allied with the former Jamahiriya political and economic system set up by Qaddafi have taken control of several cities and towns in the south. Clashes have also been reported around the capital of Tripoli, where nationalist forces have fought pitched battles with militias and military forces backed by the GNC regime. (Libya Herald, 20th Jan)
These developments have prompted French Admiral Edouard Gillard in the Washington post to appeal for a fresh NATO intervention.
Dissatisfaction is growing among the Libyan population. Once the most prosperous nation in Africa, with a standard of living that exceeded several European countries, the conditions inside the country have drastically deteriorated since 2011. The decline in living standards, the failure of the regime to rein in the militias that terrorize the population, the collapse of the oil industry and widespread corruption have drawn broad criticism, even among the favoured elites.
Another decree issued in January prohibits scholarship students and public employees from speaking out against the conditions prevailing in Libya. According to AllAfrica.com:
"It calls on Libyan embassies abroad and others to draw up lists of names and refer them to the Prosecutor General for prosecution."
What is certain is that unrest will continue for some considerable time and the civilians who NATO and the UN Security Council resolution 1973 was meant to protect will be those that suffer the most and it is almost certain that the world will continue to turn a blind eye. 
Comments enabled – see comments box below. Note, all comments will be moderated.